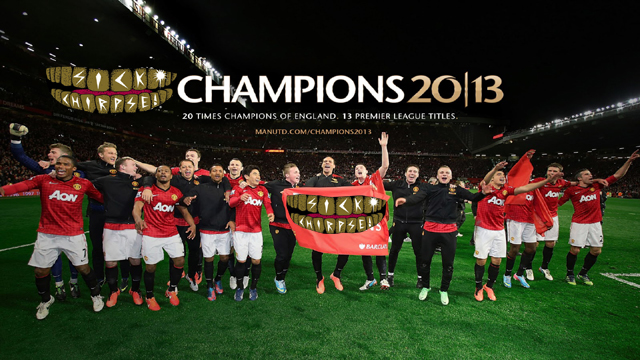 Week 38/39 in the Sick Chirpse Fantasy League seen a couple of teams go all out with their transfers in a bid to catch the Top Spot and the big prize money at the end of the Sick Chirpse rainbow. Week 38 was a hit for a couple of teams as Matthew Stewart's FC Boosh, Alex Taylor's Leave-My-Arse-A-Lona and Aaron Hicks' Proud's Prodders all clocked up a cheeky points. They must have very similar teams though as they also find themselves sat in 19, 20 and 21st in the Fantasy League as they make a charge for some kind of pride by trying to get in the Top 20 end of season figures. Things in the Top 5 haven't really changed though as Dirty Buffallo still doing their best to improve their season's best spot of 5th by overtaking Apocolypse Dudes 4th place haul. The Top Three remains unchanged as Trems Trash still leads the charge over second placed Joner and third placed Dunblane Massacres. The crown will go to either Trems Trash or Joner and if you're a betting man it has to be said that the top boys haven't been moved for 2 months and it's gonna stay that way.
Here's how the games panned out over the last few weeks that seen some big news from the retirement of Sir Alex to the end of Wigan's love affair with April/May as they are finally and deservedly relegated.
Sat 4 May 2013 – Premier League
Fulham 2-4 Reading
Norwich 1-2 Villa
Swansea 0-0 Man City
Spurs 1-0 Southampton
Baggies 2-3 Wigan
Hammers 0-0 Toon
Sun 5 May 2013 – Premier League
Man Utd 0 – 1 Chelsea
Liverpool 0-0 Everton
Tue 7 May 2013 – Premier League
Wed 8 May 2013 – Premier League
Sat 11 May 2013 – Premier League
Sun 12 May 2013 – Premier League
Tue 14 May 2013 – Premier League
BIG HITTERS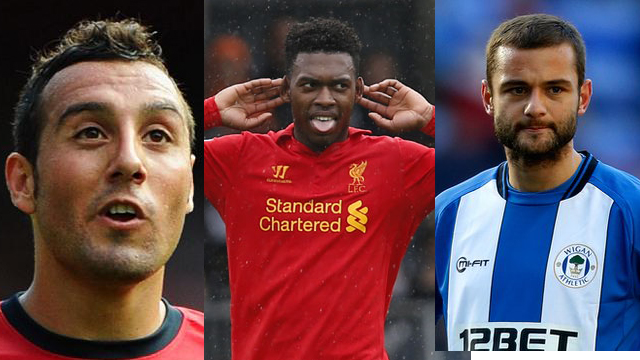 We could've easily gone with the whole Aston Villa team who in the last few weeks have sured their Premiership survival for another year after Sick Chirpse spent most of the season ripping the piss out of them. We could've gone with Chelsea who booked their place in the Champions League at the expense of the Yid Army. We could've gone with Sir Alex bowing out of the game after 50 million years at the top. Or Frank Lampard doing his best to eclipse Bobby Tambling's record and become top Chelsea goal scorer. Even Paulo Di Canio for doing his best impression Mussolini as he guided the worst half of the North-East to another torrid year in the top flight. But, in the end, it shouldn't come down to what the teams are doing but the points that people are scoring cos that's all the Sick Chirpse Fantasy League is really about.
The first mention is that horrid little troll Maloney who took some time out from being that fat bloke who follows Danny Dyer around on Football Factory to guide Wigan to FA Cup Glory at the expense of their Premiership survival. He's second in the form table over the last six weeks with 46 points so anyone who popped him into their up front for a cheeky 4.5 million has surely been laughing. No goals but a boat load of assists in the last few weeks has seen him show off his talents to potential suitors that must include all the promoted teams and other shit teams who somehow managed to stay up this season. Second mention goes to the man filling Luis Suarez's boots after his recent nashing fiasco, Studge. Daniel Sturridge has looked a changed man over the last few weeks being third in the form table on 45 points across the last 6 weeks to take him to 101 for the year. Including 14 points in Liverpool's thrashing of Newcastle and his first ever competitive hat-trick against a lowly Fulham totalling 17 points for that one game. Finally, as Arsenal do their very best to book their fourth place and possibly even third place play-off versus Chelsea, Santi Carzola decided to notch up 4 assists in the week for all 4 goals that the Gooners bagged. I appreciate Andrei Arse-Shaving once scored 4 in a much bigger game – but let's be honest he's only actually good on FIFA so he can snuff it.
BIG SHITTER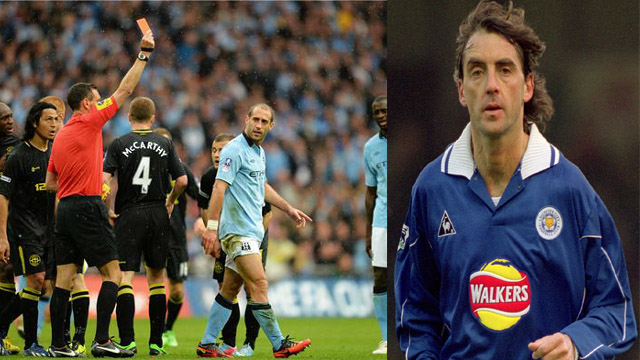 A lot of easy shouts for the big shitter over the past few weeks…we could've gone with Wayne Rooney who has pretty much booked a trip out of Manchester after sitting on the bench moaning for the last few weeks, we could've gone with JT just for getting into the full-kit-wanker daze again the other night, but in reality all of this pails into insignificance when you look at how Roberto Mancini's season has ended.
On the anniversary of arguably Manchester City's biggest victory ever just a year before, Mancini was given his marching orders by the Man City big dogs. The man who guided them to their first trophies in a very long while was given his marching orders despite securing second place when his Manchester City team were beaten 1-0 at Wembley by a team who will struggle to get back out of the quadmire of the Championship next season. According to every shitty paper around England the Manchester City players even celebrated their FA Cup loss as they knew it would mean the tenure of the Italian being up pretty soon and that just sums up how that club are currently operating. Mancini was so incensed after his teams poor performance that he stopped taking his meds at the end of the first half and was seen to be warming up in a full Leicester kit just after Zabaleta was given his marching orders. So, when you add mental illness to the list of poor old Roberto's qualities then I'm wondering whether he will be able to get a job now…poor bloke.
This is what you can look forward to in the final week of the Premiership Season:
If you really wanna try and catch the Top 5 in the Sick Chirpse then your best hope will probably be that the results go this way and that you've got a load of Arsenal/Chelsea players as you might get an extra game out of it:
Chelsea draw 0-0; Arsenal win 2-1
Chelsea draw 1-1; Arsenal win 3-2
Chelsea draw 2-2; Arsenal win 4-3
Chelsea draw 3-3; Arsenal win 5-4
However, back in the real world, David Moyes and Rafael Benitez's final games in charge of their respective club ends in a Chelsea win to secure third place. Liverpool beat an all ready relegated QPR team as 'arry begins to plot his way back up next year at debt-ridden Rangers. Man City beat Norwich despite not having a manager. Arsenal sneak a 2-1 win away at Newcastle in the dying minutes to secure Champions League football at the expense of their North London rivals, Spurs, who managed to convincingly see of Paulo Di Canio's Sunderland. Southampton and Stoke play out a horrible game that Ricky Lambert settles with a penalty to stop the horrible Stoke breaking into the Top Ten with their anti-football bullshit. Michu caps a wonderful season with the help of England hopeful Wayne Routeledge assisting to help Swansea see off Fulham. Fergie caps off his career with a 3-1 away win the sees Man Utd come back from being 1-0 down to a Lukaku goal. The Hammers and Reading face off with a draw but both teams play like it still means something which is quite refreshing on the final day. Wigan and Villa battle it out to see who can be the worst team to watch in the Premiership, Wigan win, and the game. Well done – you're all ready down.
Here's how the Sick Chirpse Fantasy League looks going into the final day of the season. Good luck fuckers:
Super League Table
Sick Chirpse
League PIN: 8009937
POS
Manager
Team name
Total points
Week pts
Starting
XI pts
Starting
XI pos
Goals
Goal Pos
Overall Position
1
Shane Tremlin
Trems Trash
1768
27
1342
69575
96
90908
9208
2
Peter Jones
Joner
1742
31
1334
74168
102
59586
14579
3
AlexanderMark Jones
Dunblane Massacres
1731
32
1251
124451
114
14251
17408
4
Tom Shipley
Apocalypse Dudes
1709
21
1439
26637
121
3811
24346
5
Ryan Williams
Dirty Buffalo
1707
39
1323
80521
100
69748
25077
6
Tom Sands
Prison Break FC
1703
16
1256
121464
110
25610
26524
7
Huw E
Dynamo Kebab
1688
20
1229
137827
103
54741
32585
8
Nicky Greenhow
Boomerwanger
1637
16
1110
196035
94
101295
57992
9
Emma Craig
The Only Way Is Emma
1608
37
1211
148360
94
101295
74733
10
David Williams
Muffin stuffers
1606
7
1452
22656
102
59586
75968
11
Gavin Rapaport
Poo
1604
0
1292
99146
107
36927
77198
11
Johnny Callow
Room 362
1604
23
1351
64634
98
80306
77198
13
Billy Mclean
Barcemoaner
1579
14
1291
99762
100
69748
92256
14
Robbie Atkinson
diables Rouges
1572
7
1097
200447
93
106510
96557
15
Huw Barker
HavantGotAClueVille
1565
21
1494
12721
96
90908
100617
16
Lee Walsh
KeansaKunt
1560
5
1193
158518
92
111579
103513
17
Bobby Peliza
bObbyDazzlers
1556
22
1272
111456
88
131286
105786
18
Drew Walsh
Real SocieLAD
1552
20
1399
41624
89
126391
108088
19
Alex Taylor
leave-my-arse-a-lona
1550
34
1068
209017
97
85589
109201
20
Aaron Hicks
Proud's Prodders
1544
45
1185
162810
93
106510
112586
21
Matthew Stewart
FC Boosh
1542
8
1239
131743
97
85589
113738
22
Jeff Ingle
Jeffentus
1533
0
971
226247
98
80306
118796
23
Terry Buckingham
Real Madras
1525
8
1286
102840
95
96199
123200
24
Max Sheppard
Fred West Ham
1508
21
1123
191282
89
126391
132069
25
Dave Ward
Pimp My Side
1504
7
1295
97295
85
145406
134080
25
Alex Prince
Prince Boatengs
1504
0
1332
75331
95
96199
134080
27
Dan Filer
ClubTropicanaDrinkFC
1485
14
1392
44630
90
121487
143301
28
Anthony Ford
4 Dimensions
1482
20
1104
198181
79
170581
144668
28
Ross Stearny
stearnpots barmyarmy
1482
7
1307
90080
84
149907
144668
30
Ryan Addams
Fish fillet
1478
0
968
226565
86
140791
146495
31
Tim Williams
TIMW_BRAP KILLAS
1464
2
1189
160690
95
96199
152741
32
Jon McLeish
Bayern Bru
1462
28
1362
58950
85
145406
153646
33
Shaun Williams
The Galacticos
1460
26
1418
34049
75
185343
154456
34
Michael Magee
Mickey T FC
1458
9
1519
8679
85
145406
155314
35
Neil Williams
Lumpers and Kickers
1455
14
1216
145500
88
131286
156513
36
Luke Wyborn
The Wombles
1451
6
1026
218469
87
136153
158136
37
James Martin
Tourist Attraction
1437
6
1437
27316
88
131286
163657
38
Thomas Foley
Unbelievable Crisps
1435
24
1156
177157
78
174414
164467
39
Trevor Brenson
RJBs XI
1434
12
1434
28344
78
174414
164853
40
Blake Walton
Walton Wonders
1431
16
1245
128119
84
149907
166001
41
Redwan Elharrak
Real Talk
1409
41
1409
37446
71
198590
174058
41
David Hewitt
football
1409
8
1246
127501
81
162590
174058
43
Luke Skidmore
bunchofslugs
1405
11
1325
79340
87
136153
175423
44
Ben Rowland
Atheist FC
1404
0
1159
175728
82
158413
175761
45
Piers Dixon
Dixon Balls FC
1402
18
1287
102202
73
192104
176451
46
Nikul Patani
Brown Bear United
1400
21
1400
41233
95
96199
177150
47
Ross Williams
Tepee Town FC
1398
19
1309
88842
77
178181
177825
48
Ashley Townsend
1 MANNING 1 CUP
1388
16
882
232527
70
201661
181115
49
Ben Lawson
spunkin FC
1384
23
1306
90691
75
185343
182401
50
Sam Lister
inter thevan
1383
3
1237
132973
81
162590
182742
51
Martyn Aeissame
Gratuitous FC
1380
8
1133
187222
74
188754
183676
51
Mark Endicott
Real Madreadfull
1380
4
951
228186
83
154212
183676
51
smart les
lemon peng-win
1380
15
1380
50054
74
188754
183676
54
Sam MartinRoss
Martin-Boss
1372
20
896
231881
80
166658
186136
55
Luke Henderson
Luke Ronald FC
1364
2
1181
164848
78
174414
188653
56
Elliott Henderson
Barsenal
1351
27
1214
146629
69
204631
192510
57
Richard Dulieu
Dyslexic CF
1341
20
1341
70130
69
204631
195300
58
John Twinn
Pav FC
1339
7
1119
192741
83
154212
195911
59
Toby Dennett
Dennethinaikos
1331
6
1302
93029
63
220578
198137
60
Dean Webster
Blues
1328
8
1180
165342
62
222993
198918
61
Jack Hopwood
FC Kaiser
1320
4
1148
180758
56
235243
201066
62
Louis Day
Spews Stars
1315
22
1315
85258
67
210185
202413
63
William Rowe
Keefy's Krunchers
1308
4
1193
158518
89
126391
204240
64
John Ryan
Obi – 1 Kanobi – 0
1301
13
1301
93665
81
162590
206102
65
Daniel Ostridge
Ajax Treesdown
1294
31
1303
92408
65
215514
207918
66
James Blundell
Blundells boys
1282
4
1047
214215
79
170581
210777
67
Danny Sharpe
Team Sharpey
1279
7
1279
107034
75
185343
211458
68
Anthony Ward
Park Ji Wonders
1277
5
1129
188839
71
198590
211941
69
Christopher Davies
T Dogg's Ball Hoggs
1276
10
1023
219006
55
237048
212189
70
John Hawkins
Mmmmcustard
1274
0
1016
220187
65
215514
212680
71
Mohamed Hussein
Why Always Me FC
1268
27
1142
183394
67
210185
214083
71
James Roberts
WOOPWOOP United
1268
32
1142
183394
45
249925
214083
73
Matt Morris
Morris FC
1259
19
1259
119588
80
166658
216138
74
Charlie Hey
tiki taka jazz cats
1242
9
1242
129908
75
185343
219808
75
Jamie Sadur
Skid Mark
1240
10
1293
98549
63
220578
220251
76
Daniel Haviland
Warriors
1236
28
1236
133568
50
244467
221053
77
Patrick Grayson
real aycliffe
1234
0
1234
134784
72
195397
221465
78
Daniel Watson
SirBobWouldBeProud
1221
4
1121
192023
58
231508
224177
79
Maxwell Hughes
maxibon united
1218
6
1170
170439
65
215514
224721
80
Steve French
French FC
1200
26
1200
154649
54
238709
228032
81
Daniel Guy
Dans witwickys
1193
11
1193
158518
54
238709
229252
82
Michael Sinfield
FC Scorgasm
1189
16
1189
160690
70
201661
229966
83
Christian Adofo
The Mandem
1186
25
1186
162322
75
185343
230487
84
Josh Watkins
bluesbrother
1168
10
1168
171451
46
248963
233335
85
Alex Crawshaw
Crawshaw's Commies
1155
2
1149
180314
67
210185
235231
86
Richard Gilbert
Queefstars
1151
15
1151
179410
55
237048
235768
87
Dave Bunker
Team Bunker
1144
8
952
228098
65
215514
236769
88
James Tootill
BigDonFC
1133
18
1157
176698
40
253670
238172
89
Mark Guy
butchys tanks
1132
7
1056
212085
64
218078
238303
89
Nick Randles
Quallo
1132
14
1132
187628
55
237048
238303
91
Nick Reid
OnOne United
1071
6
1071
208262
42
252375
244939
92
Theodore Morgan
DangALangTime
1066
19
1066
209534
64
218078
245394
93
Nestor Schischka
The Winning One
1048
4
952
228098
39
254261
246877
94
Nick Bourne
Greenham Royals
1025
10
1025
218649
52
241795
248481
95
Tomn Pitts
Gareth Keenan Troops
991
4
991
223872
42
252375
250436
96
Wes Holden
Green FC
986
23
986
224493
40
253670
250666
97
David Armitage
Real Betties
963
9
963
227090
56
235243
251780
98
Craig Abbs
Team abber
908
12
908
231236
35
256198
253922
99
Tyler Casey
50 Shades Of Goals
884
6
889
232207
25
259303
254622
100
Matthew Hurley
12fort
857
20
857
233505
52
241795
255347