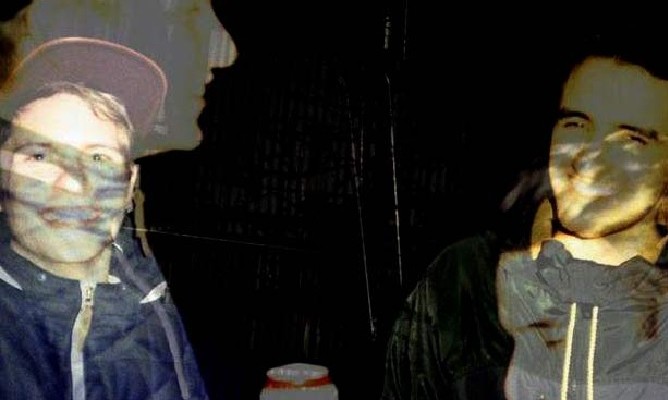 Here's a brief, scruffy history lesson.
Adam (Beluga) made a track called Now Or Never. Jake (Thieves) remixed it. There was something about the uplifting bounciness of the Thieves/Beluga combination that got everybody pricking their ears up and bobbing their heads. I was addicted to it for months. Everyone loved it. My cat hated it, but he's a grumpy prick so he doesn't count.
So, being as "devilishly handsome" as they describe themselves, it was inevitable that Jake and Adam wouldn't be able to keep their hands off each others' instruments. One night they finally let the winks and stares develop into a hot and steamy entwine and gave birth to Blonde.
Their first release, Talk To You, was as good as everyone expected it to be. Their second release, I Loved You, was a fuckload better and caught everyone a little off-guard. It triggered unforeseen levels of jumping across the land and the earthquakes caused raised entire buildings to the ground. The boys have mercifully allowed the world a whole month to rebuild itself before unleashing their next banger, but it's too strong for them to contain any longer.
☛ Watch Next: Skream Got Wasted At SXSW And Threw A CDJ Into The Crowd
This one's a little deeper and more reserved than the last, but, make no mistake, it's still capable of causing similar widespread hedonistic destruction that the I Loved You did. So for that reason they've asked for our help in opening the taps slowly, by playing it exclusively via Sick Chirpse for 24 hours before it goes live on Eton Messy tomorrow.
So here it is, Blonde's remix of Applebottom's 'Let You'.
☛ Read Next: Interview: Eton Messy
We also managed to corner Jake the other night for a quickfire Q&A, so here's that:
Sick Chirpse. Jake.
You ready? Yep.
Favourite track right now? Utrecht – Like I Love You.
Favourite track of all time? Sharon Brown – I Specialize in Love.
Best gig you've attended? Caribou at Offset Festival 2010.
Superstitions/rituals before a gig? A warm mug of Ribena and a tender embrace.
"Devilishly handsome" – who's better looking? Adam's the clean-cut pretty boy, I'm something a bit dirtier… Wait, that sounds awful. We'll go with 'darker'. Darker is better.
Who's more vain? Ooh I don't know. We both follow fashion…
Best thing about working with Adam? His unbridled creativity. And soft hair.
Worst thing about working with Adam? I get lost in his eyes for days.
If you could collaborate with anyone? Cara Delevingne. I've heard she wants to start making music. Cara, if you're reading this, hit us up!
Favourite non-electronic instrument? I've played bass guitar for thirteen years.
Favourite drink? Other than warm Ribena? Hendricks, tonic and a slice of cucumber.
Favourite munchies scran? We've both got really into goats cheese lately…. Pfft.The correct answer was Galaxy milkshake and Foxes' Crunch Creams. Haha, I don't really have a sweet tooth. I'll let it slide…
Favourite tv/film character? Ferris Bueller…..or Omar from The Wire. You're clawing it back.
Favourite board game? Scrabble. I'm playing an epic game on Words with Friends with my mum right now.
Best way to die? Too much orgy.
What did you want to be when you were 5? A pirate. Like Blackbeard or something.
Clean or hairy chest? I've never trusted a girl with chest hair….
Boobs or ass? Personality. But after that, ass.
I think we're done here. Good. That was fun and terrifying in equal part.
Follow us on Twitter: @Blondesound @Gav_Rap
☛ Check This: Gottwood Festival 2013 — Underground Electronic Music