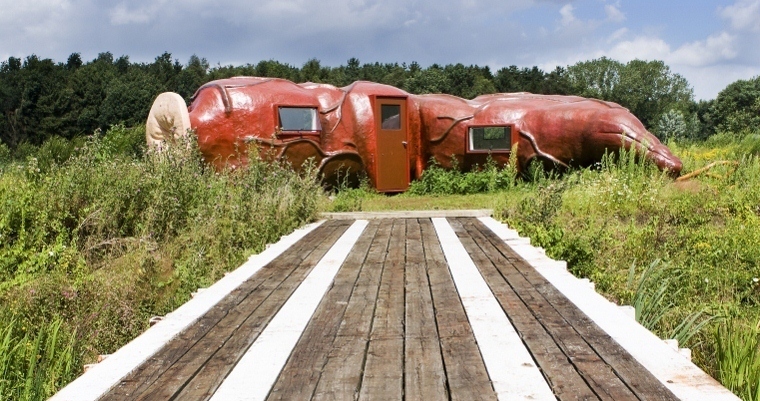 I've slept in some shit places that even a skaghead would say no to. Condoms full of love-juice stuck under the mattress, piss-stained sheets, armies of woodlice hiding under the pillow and toenails littered all over the bed are just a few examples for you to mull over and chew on.
But staying in this place would take some persuading or a lot of booze. Probably both. Because 1) you have to pay, and 2) it is a shithole, literally. It's a hotel shaped like a human colon.
The hotel is aptly named Hotel CasAnus and it's in Belgium, in some place called Flanders that's between Antwerp and Ghent. I only really know these places because they've got football teams and I used to smash my way through the Champions League with Antwerp on Pro Evo (their had some hidden gems in the youth team) but Flanders is definitely a more memorable name because of ol' Ned Flanders of The Simpsons fame and that the place is home to a hotel that's based on the appearance of a fvcking human colon. Sweet.
☛ More: The Batman Hotel Room
For the price of €120 a night – around £97 – you can stay a night and be comforted in the knowledge that the colon has heating, showers and double beds. Imagine if that is actually true and we've got little broz and hoz wandering around inside of us, chilling out on the double beds in our colons, watching our hangover shits slide and sludge past. Be pretty awesome, right?
Hotel CasAnus was (you'd never have guessed) originally an art sculpture and is now run by Belgian art collectors, Geert and Carla Verbeke-Lens, who bought it to add to their 30 acre sculpture park – creatively known as Verbeke Foundation sculpture park. The couple welcome 20,000-odd visitors to their park every year, with most of the visitors choosing to spend the night in their colon. They must be loaded.
Some guy, Tom Hall, who stayed the night there said: "It is utterly silent and pitch black at night, so bring a torch if you want to creep around at night. It is as normal as sleeping in a slug-like space can be."
Yeah. I bet, dude. But creeping around a colon at night isn't something I really intend to do. Each to their own, though, I suppose.
Here's a video of the place and some photos for you to check out.
[yframe url='http://www.youtube.com/watch?v=AVzTg9j9Vac']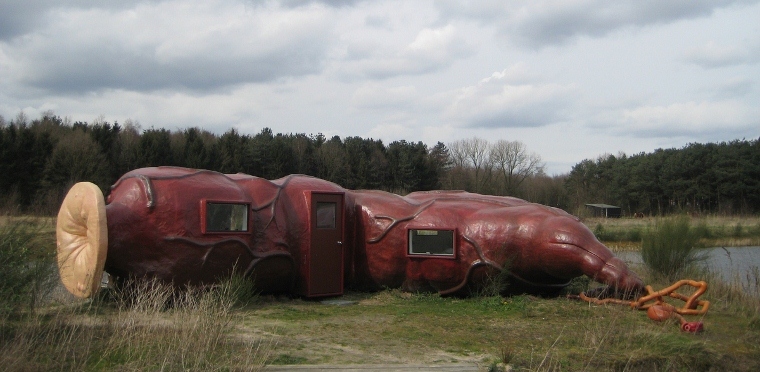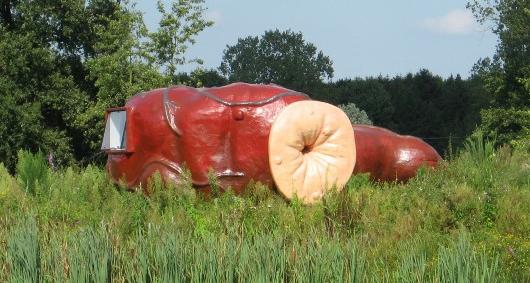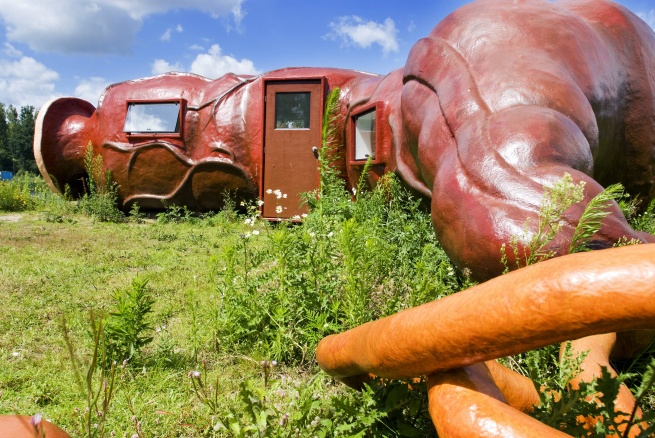 ☛ More: Have Fun Pooping!
☛ More: How To Do The Perfect Poo