Everybody is pumped for the McGregor vs. Mayweather fight, but you would be forgiven for thinking that Eddie Alvarez – the man Conor knocked out last November to gain the light heavyweight title – might be fairly nonplussed about it.
Featured Image VIA 
You couldn't be more wrong though. Not only is he excited for the event, he's even gone so far as booking front row tickets for it.
Eddie was speaking to the 5ive Rounds podcast where he also revealed he bore no ill feeling towards Conor following his knockout defeat:
I never really get annoyed with [UFC 205 loss] myself. I've dealt with it, forgave myself for it and I have moved on. Sometimes, during a regular day, I'll be back in that moment and think, 'God damn it!'

I love fights and when they have this much build-up around them, I enjoy it. I'm going to the fight. I'll be there, front row.

A buddy, who sold me his house, got me front row seats. We'll be there.

I don't know how much it is but my buddy is loaded – we're flying out there in a private jet.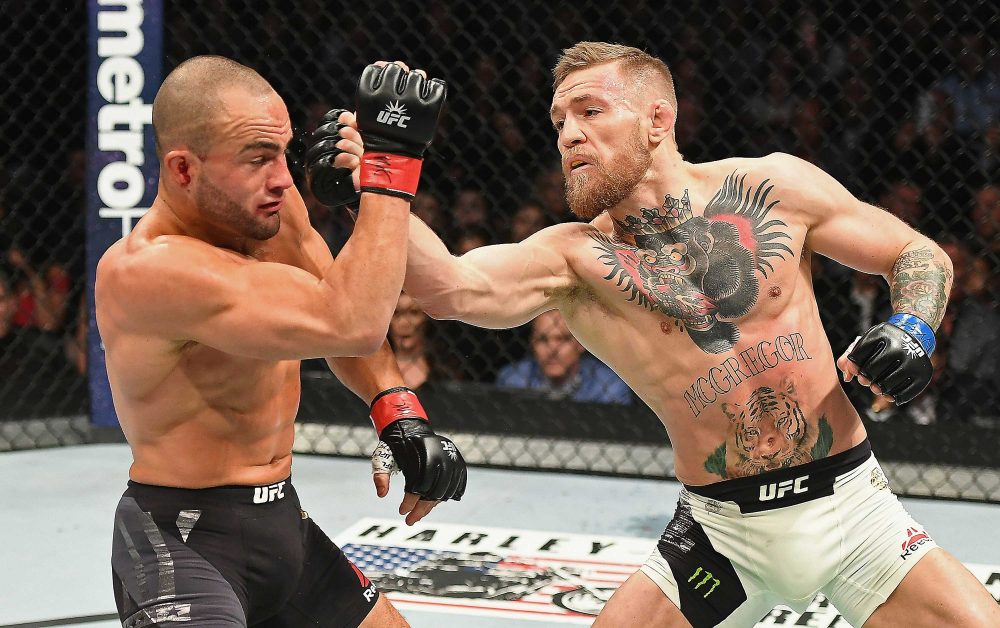 Conor has about three or four rounds to get this done. When this comes down to being a technical boxing match, which is usually between rounds five and 12, it usually goes to the more technical boxer.

But within those [first] four rounds, if you don't think Conor can knock this guy out, you're an idiot or you just don't know fighting because it can very well happen.

If he doesn't get it done by then, it could look very one-sided.
Interesting perspective, although in fairness it's pretty much what everyone seems to be thinking about this dumbass fight. Guess that's how it's gonna go down then.
Kinda cool that Eddie's gonna be there though – I wonder who else will be joining him in the front row? One person who definitely won't be is Donald Trump. Click here to find out why.