Those of you who like to keep an eye on high society's social calendar will no doubt be aware of last week's charity fundraiser hosted by philanthropist, Chelsea hitman, and living proof that malaria doesn't mean that you have to be a whiny bitch like Cheryl Cole, DIDIER DROGBA.
Needless to say any party hosted by THE DROG is bound to attract some of the biggest stars. This year was no exception with guests including child-thrower and everybody's favourite go-to hook man (after Nate Dogg obviously), AKON; former Mrs Lewis Hamilton, NICOLE "Don't you wish your girlfriend was a freak like me" SCHERZINGER; as well as a live video-link from BONO, during which he is alleged to have repeatedly chanted "WHO LET THE DROG OUT, WHO, WHO, WHO, WHO?" until AKON had to step in and turn the TV off; and a host of Premiership superstars.
There was however one man amongst all the superstars whose reputation will have preceded him. That man is none other than Drogba's fellow Ivorian – and renowned Arsenal prankster — EMMANUEL EBOUE.
For those of you unfamiliar with Ebou
é
's reputation, you need look no further than a quote from former team mate and Togelese team bus terror attack survivor, Emmanuel Adebayor, who is on record as saying that Ebou
é
is "
funnier than the funniest comedians on TV".
Just check out this picture, where some of Manchester United's biggest stars are struggling to contain themselves after one of Eboue's trademark party gags.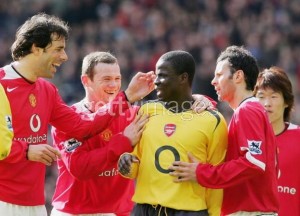 The news that Eboué was up to his usual tricks at Drogba's fundraiser would of course have come to no surprise to the likes of Adebayor or any other Eboué fan. The press reported that Eboué jumped on stage and started dancing in the middle of Nicole Scherzinger's performance and grinding with her. The Sun reported that this got him into trouble with Mrs Eboué, but I doubt she could have stayed mad at him for too long. He is just way too cool.
Anyway, here is a list of Eboué's top 3 pranks:
– Once Eboué met the Queen, but instead of just doing the usual bowing and answering any questions politely, he rolled around on the floor and played with her Corgis — what a joker.

– At a houseparty held by former Arsenal team-mate Gilberto Silva, Ebou
é
hid behind a door for three hours dressed in a full tiger costume, and when Adebayor walked in he roared like a tiger at him, scaring Adebayor shitless. Adebayor later said "
For a moment I was in a big panic but then I saw him and I thought, oh it's only Eboué
– LOL. The best thing about that story – it wasn't even a fancy dress party!
– At the World Cup in Ivory Coast's match against North Korea, while the opposition coach was giving instructions to a sub IN KOREAN, Eboué stands by them nodding and pretending to understand. Check the assistant laughing in this clip:
Oh yeah, Eboué is also really good at dancing and has one of the tighest warm up routines I ever did see in my life. Check this clip if you don't believe me:
httpv://www.youtube.com/watch?v=n_IpT4_wmKA