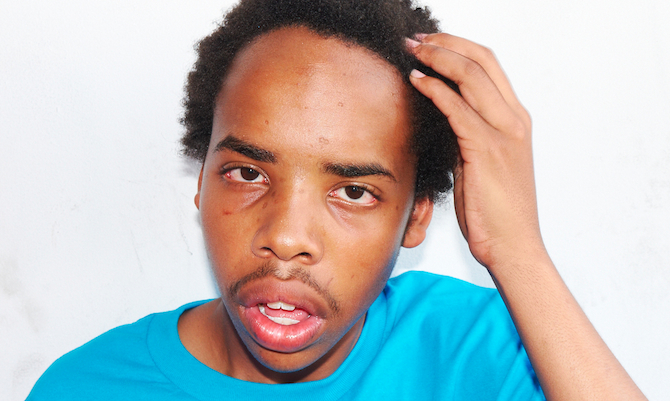 Just over a year after Odd Future's very own poet laureate Earl Sweatshirt was freed from his captivity in Samoa comes the first few steps of him truly being free and really coming to the fore of the OFWGKTA collective. After his initially promising start with Odd Future, which also saw the release of his own debut solo mixtape/album in 2010 by the name of Earl, he was soon already no longer recording music and then being shipped off to Samoa by his mother.
☛ In Case You Don't Know – Who Are OFWGKTA?
Initially rumoured to be on accounts of his lyrical content, his associations with Odd Future and his only being 16 at the time, Sweatshirt has gone on to state in interviews since his return that it was in fact in relation to his behaviour around the time, his getting into trouble and his mental wellbeing. In spite of the Free Earl campaign his fellow band members were sloganeering at the time, Earl remained in attendance of the Coral Reef Academy – a therapeutic retreat school for at-risk boys – and those same band members went on to cause quite a ruckus.
[yframe url='http://www.youtube.com/watch?v=DNM1f24QBPY']
In his time away Odd Future got big, first on the underground rap scene and via the internet, then via indie and scene kids, then they were causing a stir in the mainstream for obscene, offensive and generally vulgar lyrical content, allegations of homophobia and misogyny and all kinds of furore in relation to main mouthpiece Tyler the Creator. You probably already know most of this anyway, and you certainly know that Tyler continued to get more famous and simultaneously infamous, and you almost definitely know that Frank Ocean became the biggest breakthrough act of last year with his album channelORANGE.
☛ Earl Isn't The Youngest Rapper Around Though – 9 Year Old Rapper, Lil Poopy, Being Investigated For Child Abuse
Cutting to the chase anyhow, regardless of your feelings toward Odd Future you'll agree that they're an ambitious bunch and that Tyler clearly has a brain for business, or at least drawing attention, whilst also being the most prominent rapper of the group and that Frank Ocean is probably the most genuinely talented member of the bunch. However, Earl always showed a lot of promise right from the get go; whether it was his verses on Odd Future tracks or on other member's tracks, but most notably on his own brilliant mixtape.
Sure the lyrical content was graphic in its depiction of violence and general visceral vulgarity, but the wordplay, the flow and skilful turns of phrase showed a deft talent for lyricism — more so than his other band members. On top of that he's proved he can also get personal and introspective alongside the cartoon violence and obscenity, as with his first 'comeback' single Chum at the end of last year. Now this sounds awful similar to the beginnings of Eminem, when he was more prone to his caricatured villainous alter-ego of Slim Shady, and oh, how we laugh now and rap along to those gallows humoured murder fantasies riddled with vicodin. Check it out below:
☛ For More Controversial Content – The Best Music Video I Have Ever Seen (NSFW)
[yframe url='http://www.youtube.com/watch?v=FCbWLSZrZfw']
This year sees the release of Earl's second album titled Doris. Though technically his official debut into the wider world now he has Odd Future's infamy as a stepping off point, it is rumoured to feature production and/or vocals from the likes of Tyler the Creator, Frank Ocean, Ommas Keith, Thundercat, Domo Genesis, Christian Rich, The Neptunes, Vince Staples, BBNG, Pharrell Williams, Samiyam, The Alchemist, Casey Veggies and The Internet. Another new single has dropped today in build up to the album and features Tyler.
Have a watch. Have a listen. Enjoy, or don't. This is just the start anyway, he's only 19.
[yframe url='http://www.youtube.com/watch?v=anRkutaPS9w']