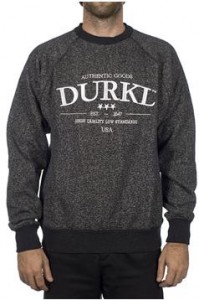 The other day I was internet window shopping – I'm a student so actual shopping doesn't happen often, and will probably happen even less for future students thanks to the rise in tuition fees – and I came across a clothing brand that I hadn't heard of before: DURKL. I'm not sure if I'm just behind the times and everyone has known about this brand for ages (let's be fair this is unlikely as I am a sick chirpse fashion blogger), but I dug their clothes so I figured I would feature them in my first post for the site.
Durkl pride themselves on being the underground voice of Washington, promoting a 'carefree' lifestyle, which is clearly a totally ironic statement as no one who wants to look good and wear brands is carefree. They're obviously based in DC, which sucks for me and everyone else in the UK who will fall in love with their clothing as a result of this post, as we all know ordering from overseas means having to pay extortionate shipping rates which can quite literally break the bank. Regardless of this and the reality of spending the last remnants of my student loan, I feel that many of the items from the 'Holiday' collection would probably be worth paying these ridiculous shipping prices to own. Did I mention that the clothes themselves are fairly pricy as well yet? $68 for a check shirt – but in fairness I know I'd look damn good in that shirt.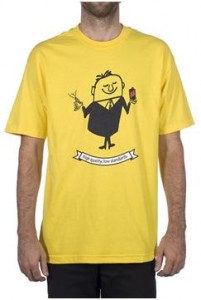 In any case, the 2010 fall/holiday collection is Durkl's biggest collection yet offering jackets, fleece, flannels, t-shirts and hats. My favourite item is this crewneck jumper, or sweatshirt or whatever you want to call it. It's simple and to the point but it's this simplicity that works for me, and this can be seen throughout the rest of their range, in the other items such as shirts, jackets and beanies. The whole line utilises basic pieces but they've managed to keep the collection looking fresh by giving items that certain underground, simple vibe in a world which seems to be obsessed with cluttered, overly colourful and complicated designs like those seen at Drop Dead and Babycakes clothing.
However, having said this, I'll be honest in saying that the printed tees are nowhere near the level that the rest of the line is at. They look immature and basically really fvcking boring in comparison to the rest of the collection – the art work isn't anything special and I can't see how they tie in with the underground carefree lifestyle that they are trying to promote. They just look like really bad cartoons to me, or maybe even band t shirts *shudder*.
Durkl's slogan, 'High Quality, Low Standards' is also fairly ironic, because to me the majority of clothes all look decent and I doubt they would be selling low standard shit because then no one would buy it, especially at those prices! Nonetheless the slogan is meant to support the carefree lifestyle they want to showcase through their line and I guess to some extent it suceeds in this.
Also, if I'm going to be really picky, it's completely shitty that they don't have a woman's range of clothes. Being a girl means that getting guys clothes to fit me without making me look like a small child is quite a feat, but I feel like I've got to own some of these pieces! Hopefully a small will look OK on me – I'll let you know.
If you like the sound of Durkl as much as I do, then head on over to www.durkl.com now and take a peek at what they've got to offer.