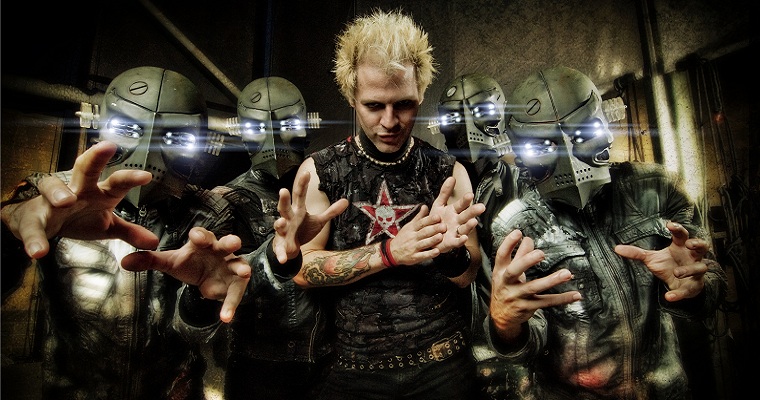 The weird nu-metal band Powerman 5000 have decided to launch a merchandise sale to coincide with a recent UFO sighting in South Korea. In what I would assume to be a previously unprecedented marketing stunt, the band have discounted an EP that they released in 2005 to promote a South Korean tour. It's a pretty weak and illogical link, but they seem to take themselves quite seriously so I don't think it's a joke. Maybe they're really into UFOs or something.
The news first broke on the equally dumb-named frontman Spider One's Twitter account, where he made his 5000 followers aware of the limited-time deal. I don't know how successful a move the intergalactic sale will prove to be, though if you're a big Powerman 5000 fan and were sitting on the fence with the EP, then perhaps the drop in price will seal the deal. I mean, you even get a t-shirt with it.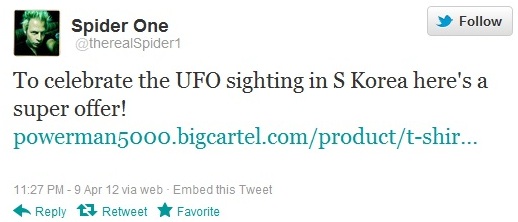 The UFO was spotted on 7th April cruising over Seoul by an aeroplane passenger who captured the event on his video camera, through the plane's window. The white, saucer-shaped object is seen flying somewhat erratically through the sky, and I sure as hell can't identify it so I suppose it really can be considered a unidentified flying object, which is infinitely more interesting than anything Powerman 5000 could do. Take a look at the footage below and see if you can come any closer to solving this cosmic mystery.
[yframe url='http://www.youtube.com/watch?v=8qx23sJfiLs']
Aside from their dumb name, I'm not too familiar with Powerman 5000 or their material. They had a song on the Tony Hawk's Pro Skater 2 soundtrack, and I spent close to a billion hours playing that game when it first came out so I remember the song well. It was kind of stupid too, and grew old pretty quickly so I'd usually just skip it for Millencolin or Papa Roach or something. Spider One is Rob Zombie's younger brother though, and sometimes the band dress up as robots when they play, so that's pretty cool.
I look forward to seeing if this event marks the start of a new trend for novel and exciting marketing ideas in the world of nu-metal. Here's a suitably ridiculous video of Powerman 5000 in action;
[yframe url='http://www.youtube.com/watch?v=lsV500W4BHU&ob=av2e']