Donald Trump's eldest son has caused a bit of an uproar on social media this week, after comparing Syrian refugees to poisoned skittles.
Featured Image VIA
Here's Donald Trump Jr's argument for why the US should not accept any refugees:
Naturally, the internet exploded:
By that logic, you would take everyone's guns away. Because someone is gonna kill somebody at some point. But I guess that doesn't count. https://t.co/3BraX0Ew19

— John Legend (@johnlegend) September 20, 2016
Around 3000 Americans die every year from choking on food. Zero have been killed by refugees. So I'd be more worried about the Skittles tbh. https://t.co/imLSZckjsI

— Mehdi Hasan (@mehdirhasan) September 20, 2016
If you told me that three @skittles in each bowl are poisonous, I'd look at the data and conclude that you're wrong about Skittle safety.

— matt blaze (@mattblaze) September 20, 2016
Obviously the Syrian refugee crisis is a complicated issue that can be seen from several angles. We know Syria is a fucked up warzone, but we also know that most Syrians are NOT terrorists and all they're trying to do is escape from ISIS who is our common enemy.
The humanitarian thing to do is to vet and accept as many of these refugees as possible into our countries, after all there's plenty of us who aren't purely 'English' or 'American' or whatever.
All that being said, the Trumps do have a point in that some terrorists will slip through the net, as we've already seen far too many times over the years. It's a question of doing the right thing but also accepting that by doing so, you're increasing the likelihood of a terror attack over here in the West.
There's no right move really. But one thing's for sure – that Tweet was pretty fucking stupid.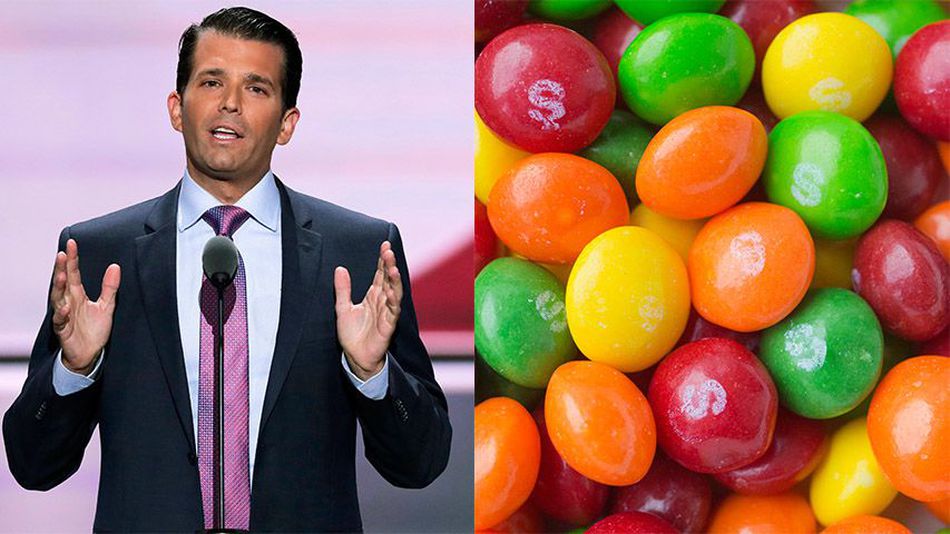 To meet Donald Trump's 15-year-old Aussie superfan, click HERE.