I've already said his once today, but there's not exactly a wide array of things to be excited about at the moment as we're stuck in a second lockdown – thankfully Domino's might be looking to help us out with that though slightly by introducing their new beef doner kebab pizza.
Images VIA 
Not really sure how I feel about having beef doner meat on a pizza, but I'm willing to give anything a go once – especially at this point in history – so it can't really have come at a better time. Along with the aforementioned beef doner meat, the pizza also comes with freshly chopped tomatoes, crunchy red onions and a drizzle of Frank's Red Hot sauce to give it an extra kick.
Here's what Domino's Director Josh Engleman had to say about the new pizza: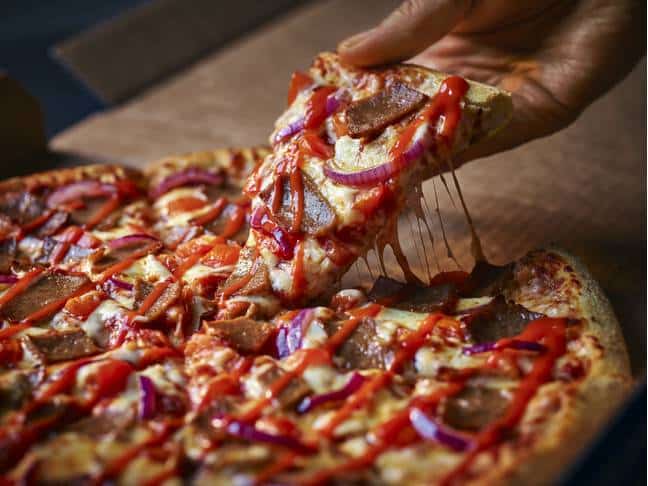 We've gone and done it again. First the Cheeseburger and now the Beef Doner.

We all miss tucking into our favourite post-night-out treat but whilst we're all hunkering down in the wintery evenings, you can always trust Domino's to deliver the party spirit with our delicious new pizza.

A kebab is a thing of beauty, as is a Domino's pizza so combining the two makes perfect sense. Franks Red Hot drizzle will provide the heat, but no kebab is complete without a bit of garlic sauce.
Thankfully, we have the perfect answer in the form of our famous Garlic & Herb dip. A marriage made in heaven.
I mean when he puts it like that it does sound like it's gonna be good doesn't it? Might have to check it out this weekend – it's available from today though if you can't wait that long.
For more of the same, check out when people thought doner kebabs were gonna get banned all over Europe. Tough times.