Over in South America there's apparently a new trend of doctors and nurses uploading selfies of themselves next to women's vaginas during childbirth. Yeah, you read that correctly.
The most famous example occurred last week when a Venezuelan student obstetrician named Daniel Sanchez posted the picture you can see below on his Instagram page, which is now private:
Featured Image VIA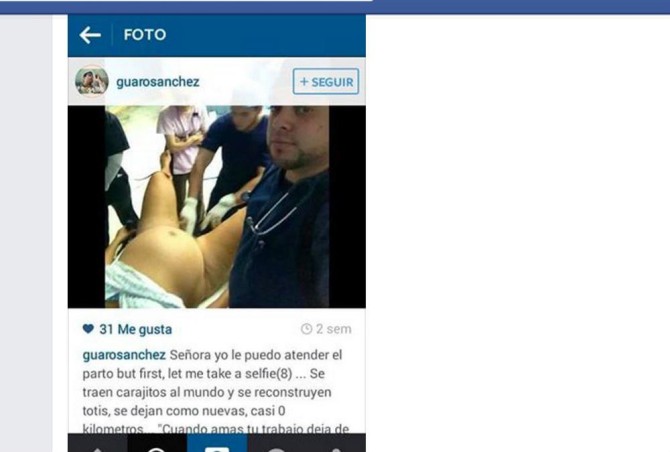 Image VIA
Yuck, right? I'm not even sure why he would want a picture like that, let alone why he'd think it's a good idea to post it to his Instagram page for the whole world to see, but hey, I guess different strokes for different folks. He seems to be enjoying it.
As you might expect though, not everyone enjoyed it and a woman named Jesusa Ricoy started a petition against Sanchez, amassing 4000 signatures. I'm guessing that's why he made his Instagram account private, and why he probably took the picture down as well. As an explanation, Sanchez says the woman gave her consent for the picture to be taken (sure she was really thinking straight whilst she was giving birth) and that it didn't show her genitals or her face, which I assume means that it's OK.
Unfortunately though he isn't the only member of the medical community who is taking pictures like this – another picture (which you can see below) has emerged of doctors posing with an unconscious naked woman who has just received a caesarean section: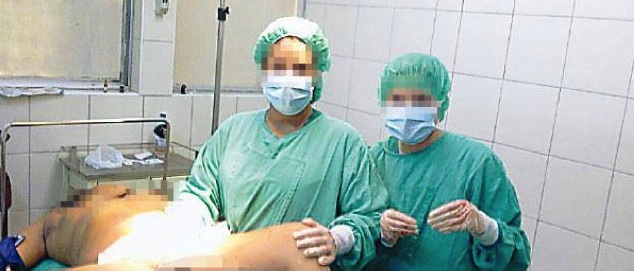 Image VIA
Another picture – which has since been deleted before anyone could screenshot it unusually – also emerged over the weekend from a male nurse named Francisco Salgado who captured the post-birth stitching on an unknown woman's perineum. Alongside it was the caption 'someone will be in my eternal debt #thankfulhusbandsstich.' In case you don't know, the husband stitch is the practice of suturing a woman's vaginal opening to be slightly tighter and smaller than before birth. Icky captioning/picture I'm sure you'll agree.
It's not really clear how long this has been going on for, or how many other cases there are, but I'm hoping that Sanchez's case will lead to it stopping right away because it's completely disrespectful and gross. It's even more of a fail than some of these epic selfie fails and that's really saying something.
But seriously though, it's completely rank and these doctors should know better. Sort it out.