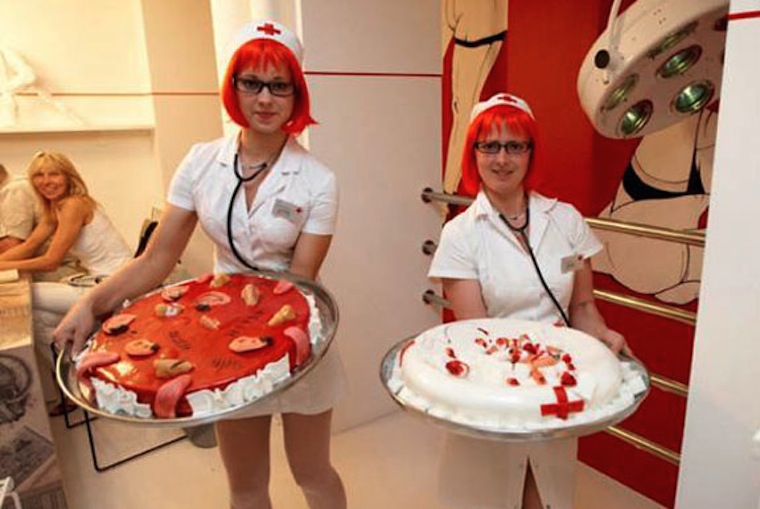 A new venue called Hospitalis in Riga, Latvia has decided to cater for such peculiar tastes.
Hospitalis is an all medical themed restaurant that takes role play to a whole new level, customers become patients and are served by doctors and nurses – pretend doctors of course. The place is decked out as you would expect in a normal hospital… highly clinical but with a strong resemblance to what looks a bit like a lunatic asylum to be honest. Forget knives and forks, you will be tucking into your grub using surgical implements, so if you like to dissect your beans on toast this place could really be for you.
Whatever your poison or should I say 'medicine', it is served up in beakers and test tubes… possible new twist on the test tube baby after a few? The whole thing does seem to give off a bit of a Frankenstein vibe and I expect this is not a place for the feint hearted, with realistic body parts such as ears, fingers, noses and eyes draped across cakes served in a mock operating theatre.
Food wise there are two menu options to choose from, the 'normal' menu and the ever so slightly more psycho 'crazy' menu. The crazy menu begins with the customer being bound in a straight jacket and served things such as liver filled quail eggs and other delicacies purposely created to look like actual human organs, I bet you're salivating at the mouth just thinking of it. But before you opt for the more interesting out of the two you will first be made to sign a indemnity waiver by the sadistic looking nurses – yes that is alarm bells you can hear.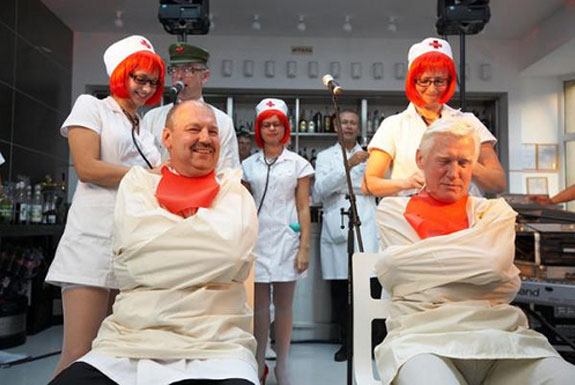 I mean it's not going to immediately pop into your head for a family meal and you defiantly wouldn't take a date here – but apparently it's quite popular over in Riga. A diner who lived to tell the tale described her experience:
"This is a place of surprise, where you can experience things you are usually afraid of with a smile on your lips, and enjoy a tasty meal".
Another summed the atmosphere up in one word… 'sterile'.