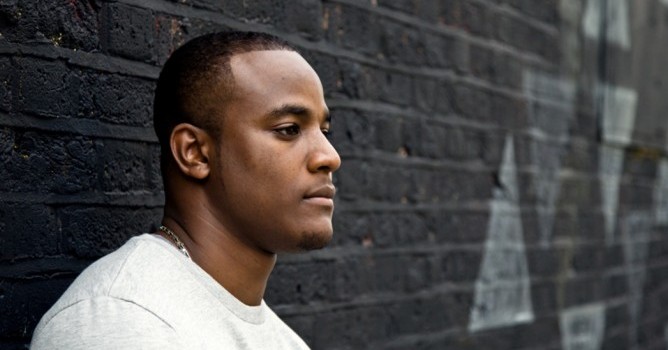 It feels a bit weird writing the title "Sick Chirpse Presents DJ Q" because this guy's been around a lot longer than us and should need no introduction. It's just for symmetry, to be honest. Really, the title should be something like, "Sick Chirpse are hella stoked to have such a legend like DJ Q playing at their party".
☛ Full Party Details: Sick Chirpse Presents DJ Q, Shift K3y & TÂCHES
This guys been a pioneer and an ambassador for bassline and UKG for about a decade. He had a show on Radio 1 for most of that decade, through which some of the biggest garage producers were introduced to the world, and now he's got a weekly prime-time slot on Ministry of Sound Radio.
You don't need to look past his Boiler Room set to understand why Q is such a legend in his field. 30 seconds and he's straight into that bouncey, pacey 2-step beat that would get Steven Hawking tapping his feet. 90 seconds and in comes that squidgy, distorted bass that swept through the country several years ago, creating its own niche genre named simply "bassline". It's pure, it's unpretentious, and it's here to get everyone skanking.
[yframe url='http://www.youtube.com/watch?v=EhI0Grh9Brk']
Oi, remember this? This track took bassline into the charts in 2008 and tried to tell Adele, Nickelback and Leona Lewis to stop taking themselves so damn seriously. U WOT U WOT?!
[yframe url='http://www.youtube.com/watch?v=fUGZq02cYIY']
Since then his sound has developed and matured and recently Q has been releasing some of the most gorgeous and delicately crafted 4×4 garage of his career. We caught up with him this week via a little email interview ahead of our big end of exams/start of summer party at the Deaf Institute next Thursday the 30th. Enjoy:
Safe Q. Where in the world are you? How's the weather? What are you listening to right this second?
Yo! At the moment I'm in good old Huddersfield. The weather isn't too cracking. Without wanting to sound vain I'm actually listening to one of my own new instrumentals. I've been sorting tracks out all week for various projects.
[yframe url='[yframe url='http://www.youtube.com/watch?v=ZgMcXEOGA0g']
You've launched a new project under the name Classified, leading with the absolute banger Say To You (very Todd). What's the thinking behind the new alias?
There was never a big master plan behind the project. I've always been a fan of the whole Todd Edwards cut-up style. The whole thing started as a bit of fun with me just messing around with some Carly Rae Jepsen vocals. I threw the track up as a free download and because it was a bootleg I never wanted to put the "DJ Q" name to it so 'classified' was the first thing I could think of. As time went on I was playing with a few more chopped up ideas and at the same time people were asking for more 'classified' bits so I just decided to label all those style beats as "Classified".
How does Ministry of Sound Radio compare to BBC Radio? And what's different about your show?
There's no real difference to the show itself, it's still me in the mix. Whether I'm on for 4 hours or an hour you're gonna get the same energy all the way through. The only difference I'd say is that the Ministry Of Sound radio show exposes my sound to a new audience. The time of the show is also different, I'm on at 9pm which I guess means more people are able to listen live.
You know more than most about UKG and Bassline. Why has it had so much more success in the north and west of the UK than the south, and the rest of the world?
Everyone loves a bit of Bassline! With regards to it not being as popular in parts other than the north I think that's just down to places not being exposed to the sound enough. Bassline was in all the clubs up north so everyone had chance to hear it an get into it from it's early stages.
I've been working my way through your top 10 vocal 2-step tracks you gave dummymag.com, but I haven't got to number 7 yet because I'm completely hooked on Girls Like This by B15 Project, Crissy D and Lady G. It's on the soundtrack to a film called Groove, which seems to be beloved to 90's ravers (same with Human Traffic). Can you recommend any good films which capture the spirit and culture of noughties garage/2-step/bassline? Because to me it seems to have been massively underexposed in the film industry. Why do you think this is? What kinda films do you normally go for anyway?
To be honest I don't think there's any films out there at the moment that have captured the spirit and culture. Good idea there I might have to score a film using only UK Garage! Would you guys come and watch it? (Yes, definitely.)
As for films at the moment, I went through a stage of going to the cinema all the time but I hardly get chance to go anymore. I went to watch Iron Man 3… that was ok. I'm a fan of old films like New Jack City, Marked For Death and stuff like that. I must say though you need to see Megamind if you haven't already – it's the only film I've ever been to the cinema to watch twice! Defo one of my top 3 films.
You've dropped a couple of Shift K3y's tracks into your Ministry of Sound mixes recently. How highly do you rate the two dudes under you on the bill? And which other young talents should we look out for this year?
Shift K3y's tracks have that energy about them. I'm a big fan of the Attracting Flies remix, it's wicked! As for talents to look out for I always say keep an eye out for Mella Dee – he's a wicked DJ and producer.
What are you saying to the new Daft Punk album?
Yeah it's decent. A lot of people were saying they were disappointed with it but for me the album is exactly what I expected it to be. Personally I still prefer the Discovery album and the whole vibe of that.
Your tweets tell me you're an Arsenal fan. Wenger out? What needs to change?
No, Wenger can stay as long as they start spending money. 4th place isn't good enough!
And finally, are you gonna spin Trust Again for us on the 30th? We bloody love that one. Shouts to Louise.
Yeah course I'll be playing that along with a few brand new exclusives!
Cheers dude!
Catch DJ Q alongside Shift K3y and TÂCHES on Thursday May 30th at The Deaf Institute, Manchester.
More info + tickets here: https://www.facebook.com/events/399778303471856/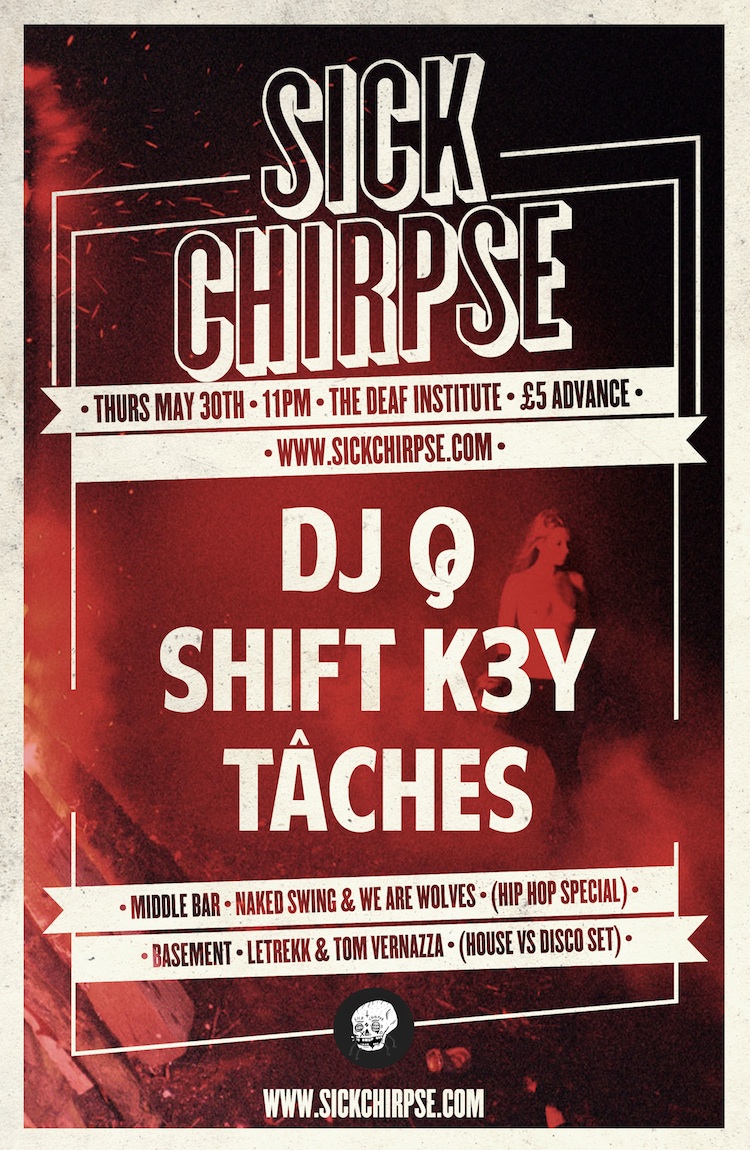 [yframe url='http://www.youtube.com/watch?v=XQQb-zczO38′]