It's just what every family wants to see at Disneyland, a crazy interfamilial beatdown at Mickey's Toontown.
Featured Image VIA
The footage was taken this week at Disneyland over in Anaheim, California, with police confirming that everyone involved were members of the same family who started arguing with each other before breaking out into an all-out brawl.
Watch below:
Magical. What a show they put on for all those kids! Who needs Mickey Mouse and Donald Duck when you've got front row seats to a bunch of grown men and women pummelling the shit out of each other? Really gets you thinking about Disneyland in Anaheim for that next family holiday.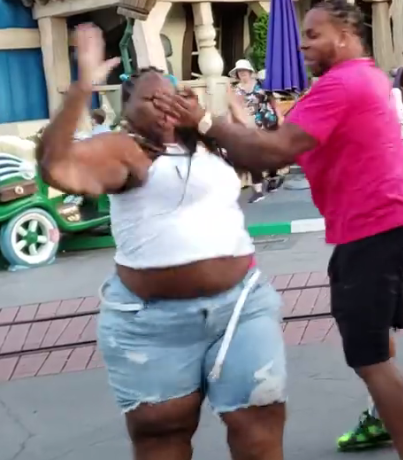 The maddest part though – how this guy got away with slapping and punching at least two females, again and again. Really think big mama's boyfriend (think it's her boyfriend) could have put in a better performance, but I guess he was a bit terrified of big man in the pink.
Also, two and a half minutes with no sign of security? Pretty sure the response time for this sort of thing needs to be way quicker than that. Fix up, Disneyland!
For video evidence showing why you should never challenge Gaston from Beauty And The Beast to a push-up contest, click HERE.