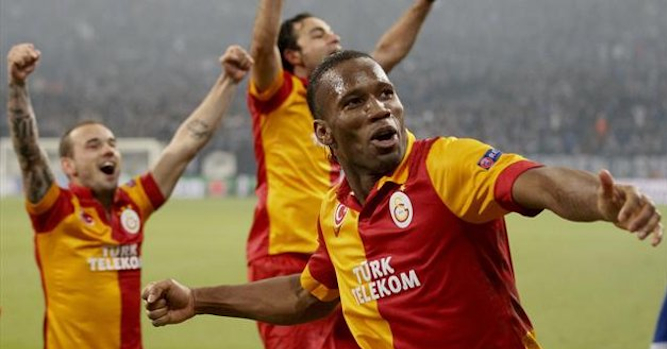 This is a couple of days old and I'm sorry for not bringing it to you sooner, but it's got to be one of the freakiest goals I've ever seen and it's highly likely that you may have missed considering it happened over in the Turkish Super League, and even though some decent players like Drogba and Sneijder play over there it isn't exactly known for its coverage over here in the UK. Or wherever you might be viewing Sick Chirpse.
So yeah, Galatasaray are playing against some team I've never heard of called Mersin Idman Yurdu over the weekend at their home ground in Istanbul when Drogba pops up with one of the most amazing/retarded lobs I have ever seen in history. Like, there's absolutely no way he meant to do it, and the keeper should probably 100% have saved it but it just looks so ridiculous that you've got to check out the video and see it for yourself.
If I'm going to try and describe it then it would go something like this. Some other player who's name I don't know whips it in from the right towards Drogba in the middle on the edge of the area. Drogba tries to control the ball but it's going too fast and he completely screws his touch up. The ball goes about 40 feet in the air and somehow manages to balloon in over the keeper. It's just incredible because the ball goes so high over such a small space on the ground and loops in. I haven't ever seen anything like it and I've seen a lot of goals. It doesn't even resemble that stupid Karel Poborsky lob from Euro '96 – it's even stupider.
Granted, the keeper really shouldn't have let it go in, but even if he hadn't it still would have been one of the freakiest shots I've ever seen. As it is though it's one of the freakiest goals I've ever seen instead. Let's hope Drogba can get another one of them tonight and send Real Madrid out of the Champion's League. I doubt it, but you never know.
☛ More Incredible Goals: 
Goal Of The Century Contender – Spinning Backheel Freekick Lob 
Fabrizio Miccoli Scores Incredible Long Range Goal – Unbelievable Tekkers 
Eren Derdiyok Sets Himself Up For A Bicycle Kick And Scores It  
[yframe url='http://www.youtube.com/watch?v=OLeRsVmnhwI']