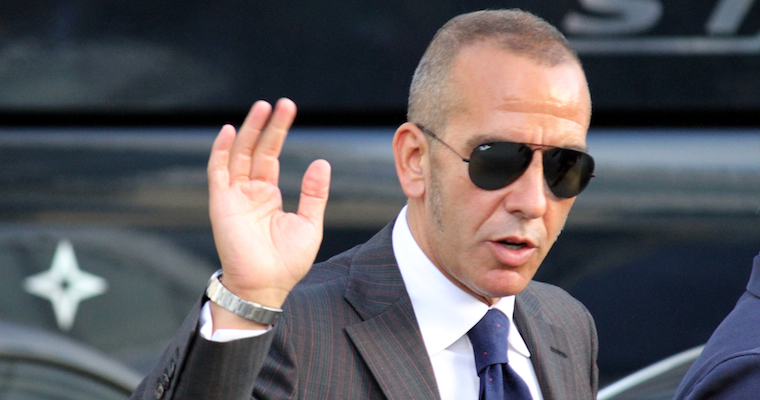 Paulo Di Canio was an awesome footballer, but he had a screw loose. He was so passionate about the game, you could see it literally dripping from him. One of the incidents he's renowned for is when he pushed a ref over after he got a red card.
[yframe url='http://www.youtube.com/watch?v=-VFp1WwSMu4′]
People often forget how good a player he actually was, though. Some of the goals he scored were awesome as fvck, like this:
[yframe url='http://www.youtube.com/watch?v=Zu4mD-3vM8Y&feature=related']
However good he was as a player, he didn't seem to have the temperament to make it as a manager so loads of people thought he'd just fvck off after his playing career and become some sort of pundit or cult icon, but he proved them wrong and into management he went. He's doing pretty well, too, with Swindon. I don't know if that's because he's a good manager or that he's fluked it by inheriting a decent team though.
His style hasn't changed a bit since his playing days either. He's picked up 3 red cards already this season – that's more than the average player – and he's still off his trolley. The most recent sending-off was against Macclesfield, after he reacted angrily when his side were denied a free kick. He must have been even more pent-up than usual that day as he was seen trying to kick striker Matt Richie as he headed down the tunnel at half-time. There's been a few more incidents that he's got himself into this season already such as punching his own player Leon Clarke and being charged by the FA for running onto the pitch after his side scored a late winner against Northampton on New Year's Eve. After being sent off against Macclesfield he said: 'If they send me off 25 times it does not matter because I have a great team and we will still win the league.'
Good to see he's not short of confidence.
Here's a video of him ranting after the game. The kick at Richie is funny as fvck.
[yframe url='http://www.youtube.com/watch?v=S1RP8iA6lvQ']