Dele Alli looked like he was back to his best yesterday in the second half of the Tottenham game against Liverpool, as he laid on the pass that was responsible to Spurs' first period (even if Harry Kane was initially offside).
Featured Image VIA
It isn't looking so rosy for him today though after it was rumoured that Liverpool fans leaked his sex tape as they were so upset his his role in Tottenham's last gasp dramatic draw last night. I'm not actually going to post the sex tape here, but it's not exactly very hard to find if you know how to use Twitter or the internet. Someone has probably already sent it to you anyway – I've got it in three different Whatsapp groups already.
It's kind of a bizarre clip as it just features Dele standing up naked in a room somewhere whilst a woman is down on her knees sucking him off. Not really sure who was filming it or what was going on but it's a pretty weird clip I know that for sure.
Dele himself has been quick to acknowledge that it is actually him and has apologised for the clip, noting that it took place in 2016 and wasn't a fair reflection of who he is now. Sure: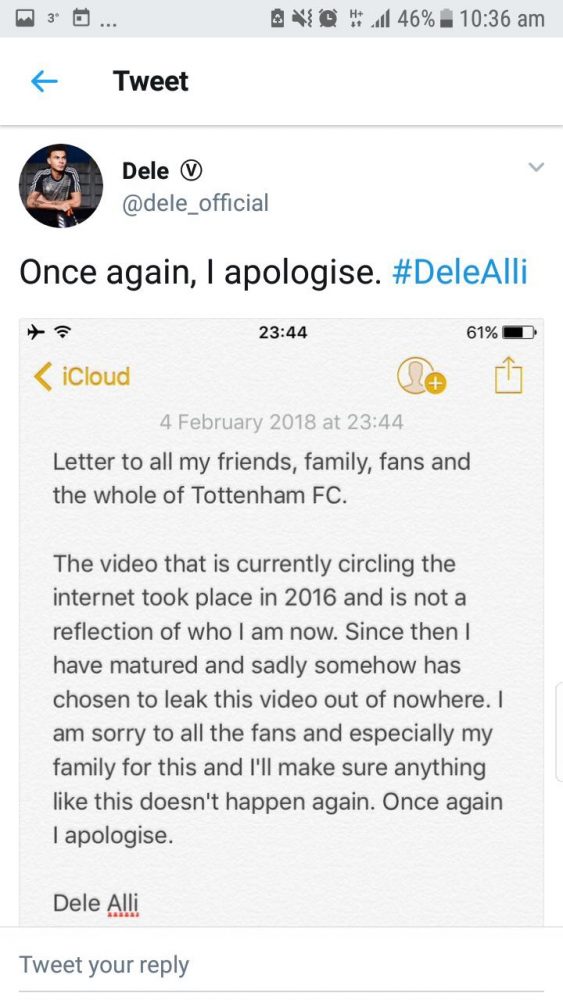 Oldest excuse in the book although I'm not really sure if Dele has done anything wrong here, as the woman in the clip seems up for it. Strangely he has now seemed to have deleted that from his official Twitter page, so maybe he's been advised against admitting it was him by Spurs or something.
Although someone told me there is a new face swapping app out that is causing people to make videos like this and it might not actually be real, but I'm not sure I believe that. Looks pretty much like Dele Alli to me in that video.
I dunno, but I'm sure this probably isn't the last we're going to hear of all this by any means. Stay tuned.
For more sex tapes, check out the top ten celebrity sex tapes of all time. Nice.