Dejan Stankovic scored one of the goals of the season tonight at the San Siro in the Champion's League match between Inter Milan and Schalke with a fifty yard volley.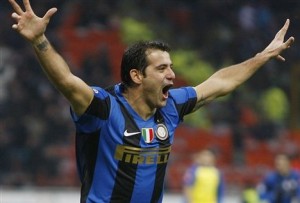 Most of you were probably watching Tottenham V Real Madrid tonight in the Champion's League, but you're missing a potential classic unfold in the San Siro between Inter Milan and Schalke as the score is 2-2 as I write this at half time. The game kicked off in spectacular style in the first minute when Dejan Stankovic volleyed a headed clearance from goalkeeper Manuel Neuer all the way from the halfway line back over his head and into the net. I am not exaggerating when I say that this was a fifty yard volley. The ball didn't touch the ground from the time Neuer headed it until it was in the back of the net. It is completely sick and really highlights what a completely sick player Dejan Stankovic is. Pretty sure he's done something similar to this in the past. It's also the fifth quickest goal in Champion's League history (quiz question – who has scored the others?) and will probably be the goal of this year's Champion's League tournament. Check it out below (link courtesy of Youtube.com):
httpv://www.youtube.com/watch?v=msU7c8mu1_s
The action didn't stop there with additional goals coming from Diego Milito, Joal Matip and Edu before halftime. Go tune in now if you're reading this live, the second half of Inter Milan V Schalke promises to be a cracker and probably better than Tottenham V Real Madrid and could quite possibly end up being the tie of this year's Champion's League.