Wedding crashes usually suck and are massively unwanted, but when the wedding crasher is none other than David Hasselhoff it's a brilliant way to top off the best day of your life – at least according to Clare and Craig Shipman.
The pair were having their wedding reception in Roslin Beach Hotel in Southend where The Hoff and Christopher Biggins are currently appearing in a pantomime production of Peter Pan. When friends of the couple spotted the two stars eating their dinner at the hotel they asked them if they wouldn't mind coming over to wish the newlyweds congratulations. They agreed 'without hesitation' and you can see the results in the picture below.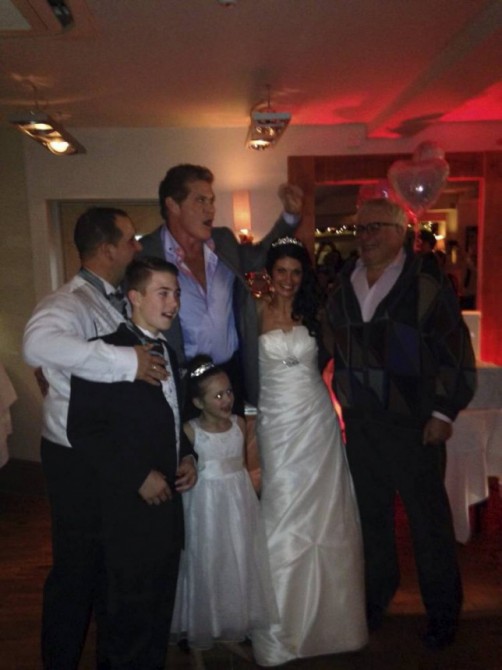 Craig said it totally made the day for him – as if it wasn't already perfect:
It was priceless — a brilliant way to top off the best day of my life. I lived the dream and married the woman of my life!

They walked through the door and congratulated us and put their arms around us and Kai and Macie. All the boys shouted 'It's Knight Rider!'
Sounds like pretty much the best wedding ever. No news if you'll be able to hire Hasselhoff for your own wedding after this success, but Peter Pan is still running until January 11th if you want to head down to Southend and try and catch him yourself. Anyone getting married in the area this weekend should definitely keep an eye out for him.
Probably preferable to a cracked out DMX gate crashing your wedding.