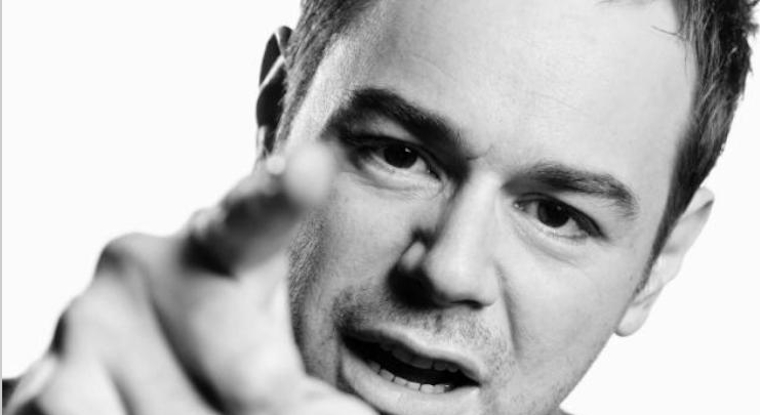 Ok as you probably know if you read Sick Chirpse a lot we love Danny Dyer and that any story featuring Danny Dyer is usually a good one. So, if you're anything like us you'll probably be pretty stoked to see that the man himself has released a special Xmas mug bearing his resemblance that you can buy for your mates this Christmas. Or maybe even your family or girlfriend/boyfriend if they're big Danny Dyer fans but I would feel kinda weird giving someone in my family a Danny Dyer mug. But that's just my family. I'm sure there are a bunch of  families out there where someone might appreciate a Danny Dyer mug, right? I would feel kinda weird giving it to my girlfriend too, but I think it would make a great gift for pretty much anyone's boyfriend ever because Danny Dyer seems to hold a universal appeal for #lads everywhere.
The Danny Dyer mug itself is pretty great. I mean, a mug is a mug and although I haven't actually used this one I'm sure it's pretty great for drinking whatever you want to drink out of  it. I'm talking about the design on the mug itself being pretty great though. It's just Danny Dyer pointing and looking kinda angry with a speech bubble coming out of his head saying 'mug.' Couldn't be more perfect right, I mean what else could Danny Dyer say on a mug that would be more approriate? We all know he's got a bunch of great lines – ' Tottenham away? Fvcking 'ave it,' 'Couple of cheeky tequilas girls?' 'I can't wait to see your fanny'  etc etc etc but I think that this is definitely the most appropriate for the mug, especially after the classic prank earlier this year where Glasgow Limmy prank phone called him and was repeatedly told he was a fuckin mug by double D as he was wound up more and more over the course of three minutes. 
☛ More: Danny Dyer Calls 9/11 Terrorists Slags 
Not only that , but if you order the mug you also get a signed Christmas card from Danny Dyer thrown in as well, which will include a personalised message. I'm not sure how he could personalise it more than just some Buffy The Vampie Slayer esque 'have a nice summer' generic stuff like 'Merry Christmas you mug' or something like that, but even that in itself is a pretty awesome card to have on your mantelpiece and show people when they come around rather than some crappy card with some trees on from your Auntie Phyllis or whatever. They might even believe that you're actually friends with Danny Dyer which would probably send your net worth in their eyes through the roof.
So yeah, with that in mind if anyone wants to order one of these for me for me for Xmas email info@sickchirpse.com and I'll let you know where you need to send it. You've gotta be quick though, they take 3 weeks for delivery so you gotta have it ordered by the 4th December which is only a week or so away. Or if you don't want to order me one I'm sure everyone reading Sick Chirpse probably knows at least one person who would appreciate a great gift like this, so what are you waiting for? I mean it's obviously a pretty stupid gift but I guarantee that everyone who receives one will laugh a little bit, and it's not like it's completely useless after Xmas because they can still use it as a mug, probably for the rest of their life. And you just know that whenever anyone goes over to their house they're blatantly going to ask if they can use the Danny Dyer mug when they make the drinks.
Head over HERE to check out the mug and pick one up. Oh here's a picture of it as well in case you're too lazy to click a link.
☛ More: Danny Dyer Gets Interviewed. On Acid. 
☛ More: Danny Dyer DJ Set (VIDEO)