Looks like Christmas has come early for all you Danny Dyer fans as – after the shambolic performance of his last feature film Run For Your Wife (it made about £80 in its opening week at the cinema) – he's decided to jack the movie business in to become a regular character on England's most watched soap EastEnders.
Danny will be joining EastEnders around Christmas time and he'll play a character called Mick Carter who is brother to Shirley Carter – who I'm guessing is already in the show – and shows up to operate as the new landlord at the Queen Vic. Mick is described as 'a bloke's bloke with a soft heart,' which probably means that Danny Dyer will just be playing himself again, but hey that's why we love him. I personally think that it's absolutely fantastic that we'll be able to tune in two or three times a week to see what he's up to, rather than just waiting for a new movie to come out and it ultimately not living up to classics like The Football Factory and The Business.
In EastEnders, Mick Carter will be joined by his wife Linda behind the bar, who is played by actress Kellie Bright, who apparently is another big coup for the show although I haven't actually ever heard of her. Dominic Treadwell-Collins – the executive producer for EastEnders – could not hide his unbridled joy at having the two on the show: 'I'm so excited to have actors of Danny and Kellie's calibre joining what is an already strong and talented company of actors,' he said in a statement.'
He also offered some ideas about future plotlines featuring the two, which sound riveting: 'Having been together over 20 years, Mick and Linda have a good marriage and an easy shorthand with each other – but can also still fight like teenagers. They will laugh, cry, argue and make-up… much to the embarrassment of their children and the delight of Albert Square's residents.' See – they really sound like tuning in for, don't they? I can just see Danny Dyer now: 'Come on gal, you know I love ya' as he puts his arm around her as he leaves the Queen Vic.
☛ More Danny Dyer: Sick Chirpse Interviews Danny Dyer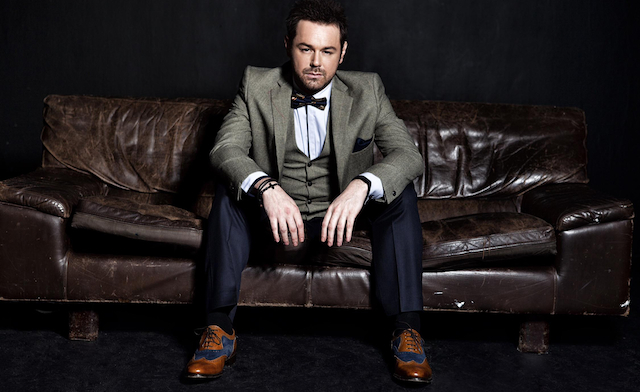 Interestingly, Danny Dyer actually considered a role on the show back in 2009, but eventually decided on turning it down after the initial meetings on it: 'I quite liked the idea,' he said at the time, 'but actually, in reality, I just got cold feet. Just from having a meeting, it's all over the newspapers and it gave me the horrors. Imagine if I went in it?' Well yeah there's no need to imagine now because it's confirmed and all over the newspapers, exactly like it was before unsurprisingly.
Yesterday he offered a very different statement on moving into Albert Square, which I guess just goes to show how much can change over 4 years and kinda makes him sound like a footballer who's transferred from Manchester United to Sunderland: 'I'm so excited about starting a new chapter in my career. I cannot wait to become part of the East End family.' For once, I've got to say I can't wait to see him become a part of that family either.
In all seriousness, we couldn't be happier that Danny is going to be on TV multiple times a week and it might even inspire us to tune into EastEnders every now and again to see what he's up to, which isn't something we've ever really thought about doing before. Massive props to Dominic Treadwell-Collins and the team for getting him on board – it looks like it could be a masterstroke.
It's also interesting that Danny Dyer said he had loads of stuff lined up when we interviewed him at the turn of the year that he doesn't look like he'll be doing now if he's committed to doing a regular job like EastEnders. I guess we'll have to see how that pans out though as it's possible some of it may already have been filmed.
☛ Did You Miss Our Danny Dyer Interview? Check It Out Here