Dana White has been trying to deal with the issue of piracy for a long time now, and this week the UFC boss has hinted that efforts to punish illegal streamers have been ramped up for 2021, at least as far as his promotion is concerned.
Featured Image VIA
After Dana put up an image to hype the Conor McGregor Vs Dustin Poirier rematch at UFC 257 on January 23rd, some troll responded saying he couldn't wait to illegally stream the fight. Dana fired back with an ominous warning: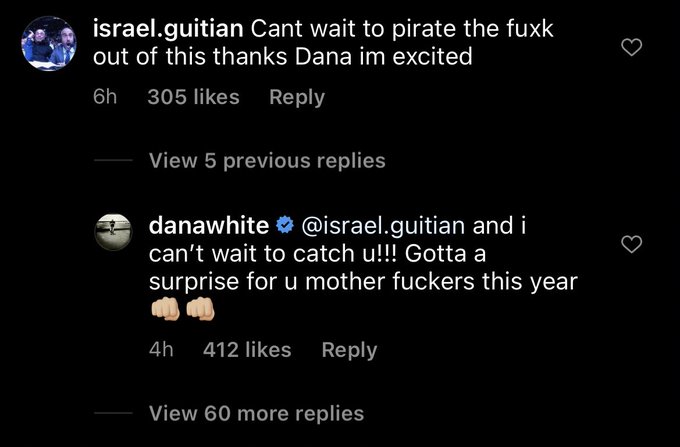 Oh shit! What on earth could he mean by that? What "surprise" does Dana White have in store? Does it have something to do with the new stimulus bill over in America that makes hosting an illegal stream a felony? Your guess is as good as mine…
Or maybe it's just a bluff? I mean maybe the UFC can bring action against people hosting the streams (if they can track them down) but if you know anything about the internet you know that new streaming sites are gonna be popping up all over the place no matter how many get shut down. And it's not like they can take action against every single person watching an illegal stream, is it? I mean does Dana White even know what a VPN is?
Whether it's a bluff or not, I just love how terrifying and vague Dana White's reply is. I actually thought sports promoters had accepted that illegal streaming was a part of the game but apparently not. Even though, if you think about, even illegal streams help grow the product and viewers see all the same ads on there anyway. It's just the UFC misses out on the $60 – $70 or whatever they're charging for PPV these days.
Guess we'll have to wait and see. In the meantime, check out this awesome video Dana White made shaming all the journalists who doubted him in 2020:
As we roll into 2021, I just wanted to remind everyone there's ALWAYS a solution to every problem! So, cut through all the bullshit, and don't let these people that don't matter tell you how to live your life. pic.twitter.com/HPMbtojjJx

— danawhite (@danawhite) December 21, 2020
Well played.
For the MMA ref who was suspended after allowing an unconscious fighter to take a brutal beating, click HERE. What was he thinking?