37 year old Roger Fraser got a One Direction tattoo recently in a failed attempt to win his daughter a pair of VIP concert tickets to the band's show.
After getting the tat done, Roger tried to enter local Indiana radio station 99.5 WZPL's competition where they were encouraging dads to dress up like members of the boy band to win the tickets.
Roger thought he'd go the extra mile and got the "I <3 1D" tattoo permanently inked to his arm… before finding out he can't actually enter because he's not a permanent resident of Tennessee. Whoops.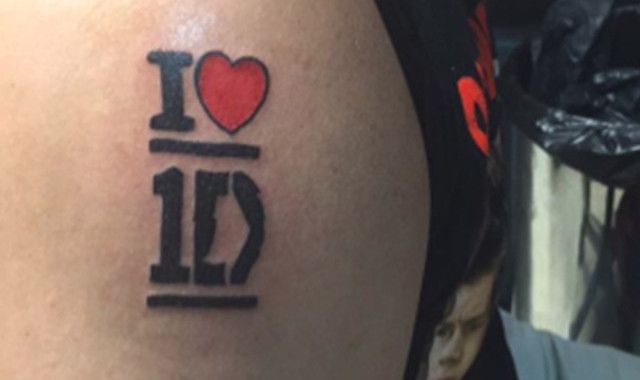 Images VIA
His 14 year old daughter Makalya did end up going to the show in the end, but without VIP, and now her dad's stuck with a 1D tattoo for life. Definitely kicking himself in private but he's put on a brave face for his daughter like all good dads do:
I got involved with something she loves. And it's brought us together even closer than we ever were. We didn't get to meet One Direction. We didn't go on stage or get front row. But the reward has been all the memories that we've made.
So having already featured the worst dad in the universe today, it's nice to have someone like Roger around to balance it out a little bit. There are dads out there who say they'd do anything for their kids but I doubt "get a One Direction tattoo so that she can get VIP tickets to their concert" is high on the list there.
Maybe just buy the tickets next time?