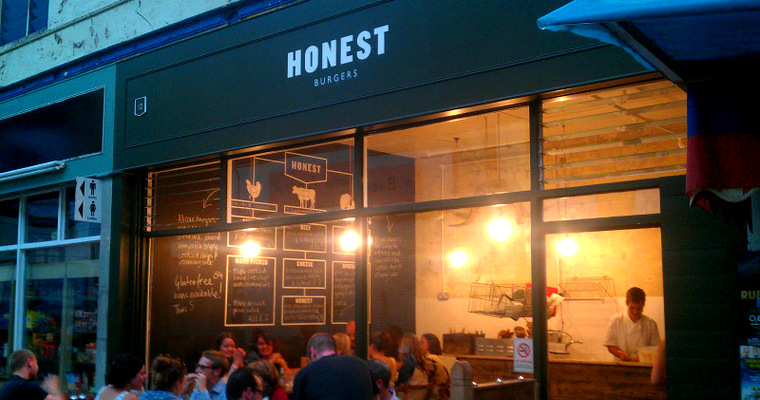 The weather was of a fresh and crisp inclination as I stood in the Soho district of London. Complimenting this unusual mild climate were delicious smells of all types of food; crispy duck from Chinatown, an aroma of garlic that snaked around the streets, courtesy of the area's many Italian restaurants and also present was a zesty scent emanating from all the Mexican joints. There were so many enticing options— apart from those garish looking faux-Argentinean steak houses. Who actually eats at them? They look like they've been there since the beginning of the industrial revolution, without a hint of refurbishment. No matter, anyway, as it wasn't a steak I wanted to get my hands on. Oh no, it was a burger. And seeing as I was in the capital, I felt it wouldn't be right to feast upon the usual delights of a respectable global fast-food chain such as Burger King, I wanted to go a little bit high-brow and had my eyes on one place and one place only: Honest Burgers.
Now let this be clear: I had been given very little information of the establishment before entering inside. All I knew was what a friend had told me. That being that it sold burgers of the most intensely scrumptious order. Of course, this was word of mouth so I took this assertion with a pinch of salt, held my breath and headed in.
There was a healthy buzz pulsating around the restaurant as I entered. Of course, it wasn't as strong as the time when McDonalds brought back the McRib after a three year hiatus (which was then cruelly snatched away from us without warning only a few short weeks later). Nevertheless, it's safe to say, there was something special about the place.
Perusing the menu, I noticed that their options were simple: beef, cheese or honest. The 'honest' option was a burger that contained everything you could possibly dream of: smoked bacon, lettuce, a choice of three cheeses and caramelised onion relish. Before I could go up and make my order, a man with an apron and a pen and pad came up and asked us what we wanted. I found this custom unusual to say the least. Not even fancy eateries like Nando's did this. But, as a tolerant man who respects other traditions, I went with it and it seemed to work out ok. He even enquired as to how I wanted my burger to be cooked. I said, "medium rare" and with that he made his escape.
After an approximate seven-minute wait, the gentleman returned with my Honest Burger. I went with Red Leicester to garnish my patty, as it is the greatest mild cheese of them all. Kind of like a more laid-back cheddar. They say your cheese preference says a lot about your character, don't they? I say no more. Surrounding the burger on the plate were rosemary-seasoned chips. Their herby scent attacked my nostrils immediately, forcing me grab at them wildly. And this was before my brain could even register the fact there was a bottle of ketchup on my left. Things were suddenly getting real and I felt a mixture of thrill and passionate yearning for what was before me.
☛  More: Sick Chirpse Goes To Hooters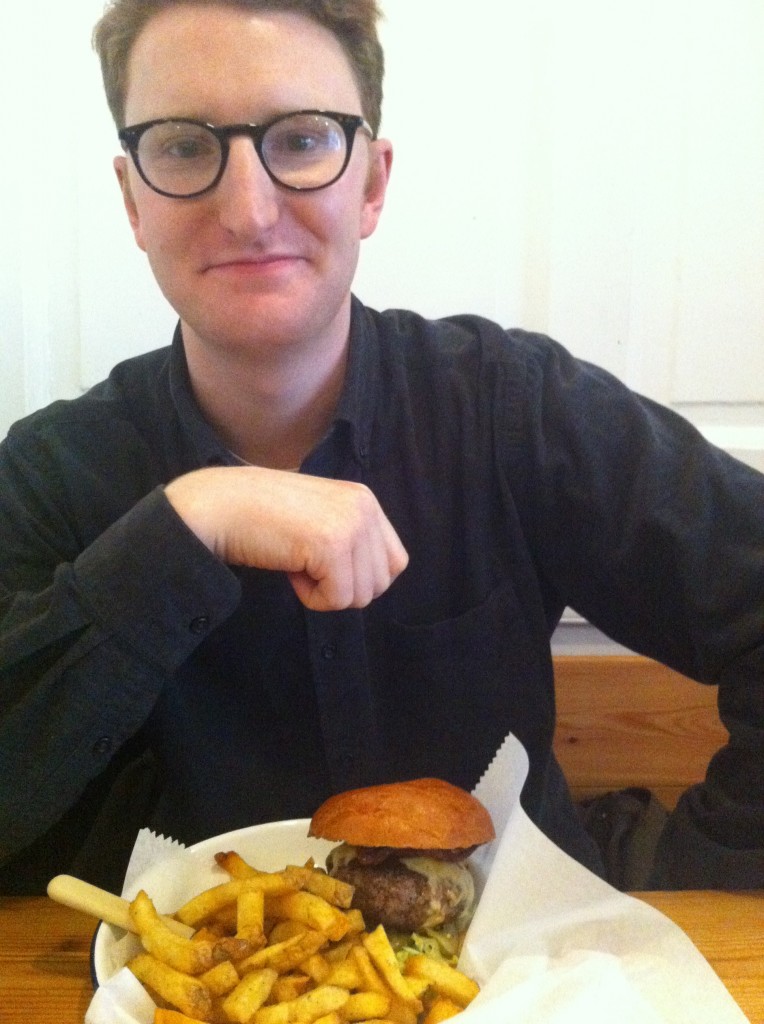 My friend Woody Al- I mean Phil looking visibly content with his chow
I picked up the burger and flipped off the top bun to see an array of delicious looking goodies. All the things I asked for were there, in abundance. Returning the bap to its rightful place, I then scooped the burger with both hands and sank my teeth into it like a sexually charged vampire in a teenage novel. My taste buds couldn't handle what was going on. The sweetness of the onions rubbed shoulders with the crisp nature of the bacon, which created a ying-yang battle of sweet versus salt. Meanwhile the burger patty was making itself known in rather a brutish manner. Its exterior was firm and chunky and awash with a robust beefy flavour; the interior was softer, adding a more intricate taste of the cow. It made my mouth thoroughly water. After a few short moments of intense joy, the burger was gone.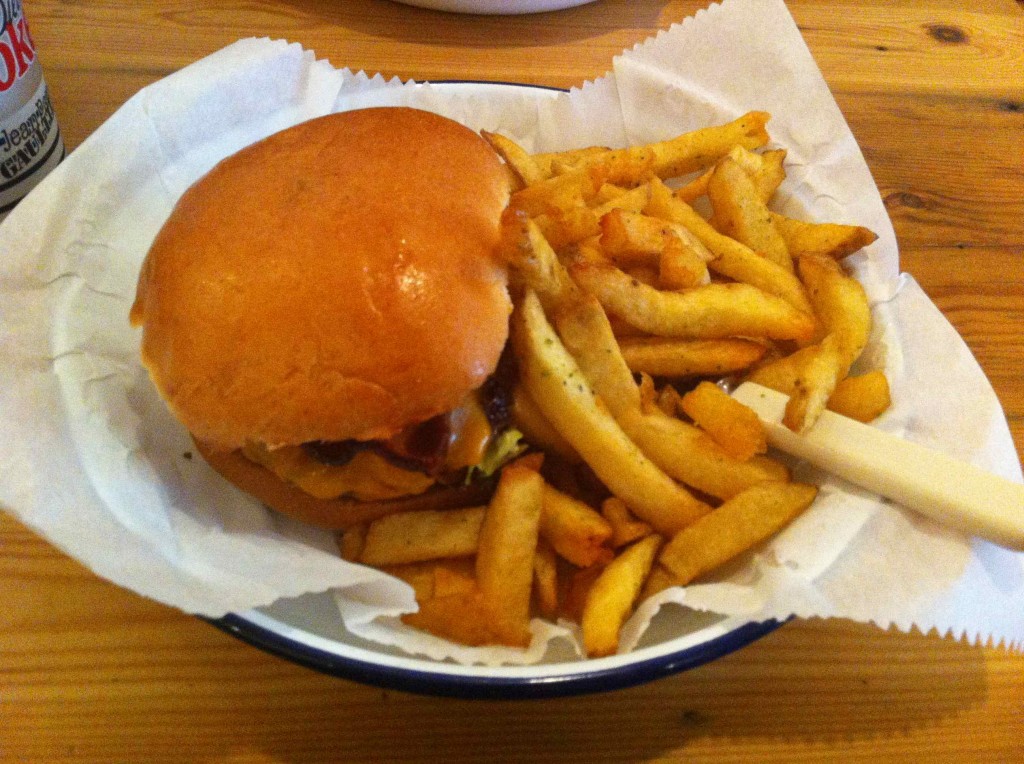 Every few bites of the burger, I stopped and made sure the chips were not neglected. They were a delicious blend of a salty and aromatic tang. In addition, the method in which they were fried (with skins on) created a crisp coating. It was quite clear that I had reached the apex of potato-based side dishes. In a way, this made me slightly moved, that I'd never better this carbohydrate- orientated moment.
My friend too had taken care of business and was slumped against the wall behind him. He appeared to be in a complete food-induced blackout. When he came to, we both agreed that the burger was something special and like Roman missionaries, we decided we spread the word of the restaurant and the brilliant things that were present within.
Before I left I decided to urinate and waddled over the toilet. Even the bathroom was a sight to behold. Fresh-smelling soap, evidence that someone cleaned it weekly and those really absorbant thick napkins that you get now and again. A real delight to excrete waste into.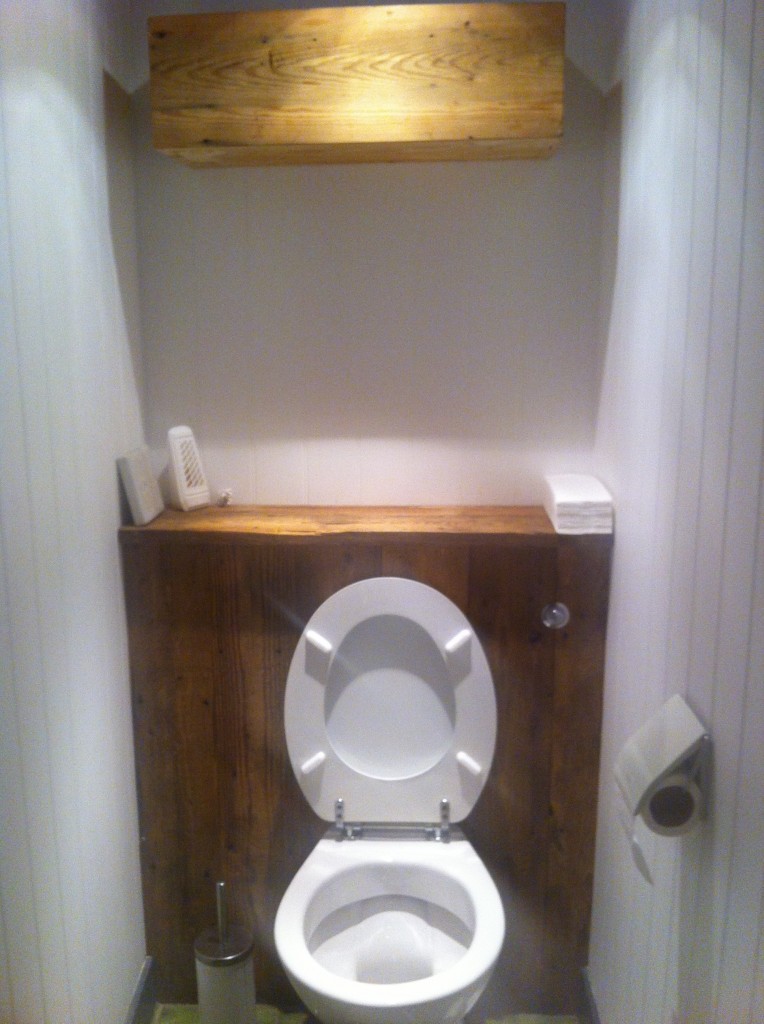 Look at this for a crap station
Honest Burgers is a burger outlet like no other. The meals are uncomplicated and incredibly tasty. Not only this, the produce is fresh, locally sourced and of a very high standard. The chips are a revelation and I hear good things about their coleslaw. But perhaps, most importantly, considering that it lies in central London, it is pretty affordable — meals start from £7 (with chips, don't worry). So, if you feel like a break from a trusted international conglomerate and you're in the Big Smoke, be sure to get your greedy paws on an Honest Burger. Oh and they have a vegetarian option but fvck talking about that! See ya.
☛ More: Culinary Review – The KFC Nacho Stacker
☛ More: Sick Chirpse Goes To Bodega Birmingham