This is another one to add to the crazy Russians archive at Sick Chirpse. We all know no other nationality comes close to the mental stature of Russians as Russian people are crazier than Boris Johnson when he can't find his hair-dye and if you've ever seen that you'll know that's some serious deranged shit. So, in short, Russians are insane and you shouldn't ever mess with one unless you've got a deathwish or are one of those weird dudes who get off when they encounter pain. Saying that, though, they make for great entertainment and have been, and will continue to be, a constant source of procrastination all over the worldwide web.
☛ More Web Stuff: The Deep Web
If you've ever been unlucky/desperate enough to catch a bus then you'll know that they're terrible beasts. Overpriced fares, drivers grumpy enough to make a Cheshire Cat frown, people that have sweaty fringes and stink of piss and biscuits, seats that are staler than a nun's vag, stop-starts aggressive enough to cause hemorrhages and when you stand up to get off you'd better be planted to the floor with vines wrapped around your feet because, if not, you'll be slung to the front of the bus like a pigeon on a catapult. Buses are shit.
☛ Wish You Were On This Bus?: Bitch Get Off My Bus! Cleveland Bus Driver Uppercuts The Shit Out Of Teenage Girl
But some people have no alternative other than to catch a bus everywhere. They're either too lazy/skint to learn to drive or live somewhere where buses are the easiest way out or have been forced into employment as a bus driver. I can imagine it's a terrible job. Ferrying around the human race with little recognition and little thanks and sustaining foot-cramps for the rest of your life because you're constantly pushing down on the clutch, accelerator, brakes. I've often wondered whether bus drivers have to go through some toughness test before they're thrown into the seat because buses are increasingly being used for acts of violence by people who have no aspirations, and never have, and if the drivers can't fend for themselves then they're like the new kid at school. Alone, scared, bullied.
☛ How To Deal With A Bully: Drunk Bully Gets Knocked The F' Out At SXSW
But this Russian bus driver definitely underwent a toughness test before he jumped into the front seat, or he was the beef for the Russian Mafia or some hard as fuck bouncer or something. He takes no shit. Whatsoever. He's got a dashcam on his bus and as he's ferrying the Russian population around – I'm guessing he's had a lotta trouble with other Russian crazies cutting him up and spoiling his day – he's filmed himself smashing into the back of other vehicles who completely cut him up. And by 'smashing into the back of', I mean revving his engine and divenosing into the back of them, making his targets veer off the road, getting their lights wrecked and meaning they have to fork out some ruble to get their car looking slick again and to get their car roadworthy. These are some photos of him about to smash into, and after, smashing into other vehicles: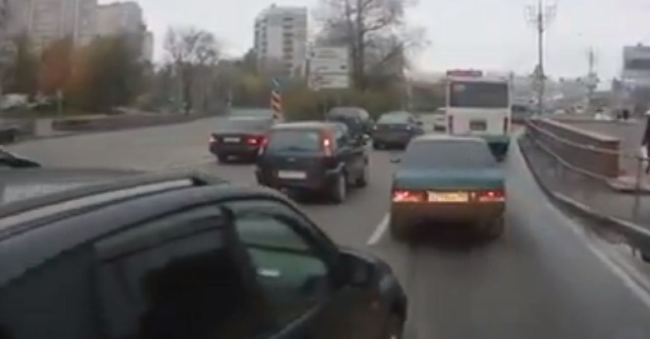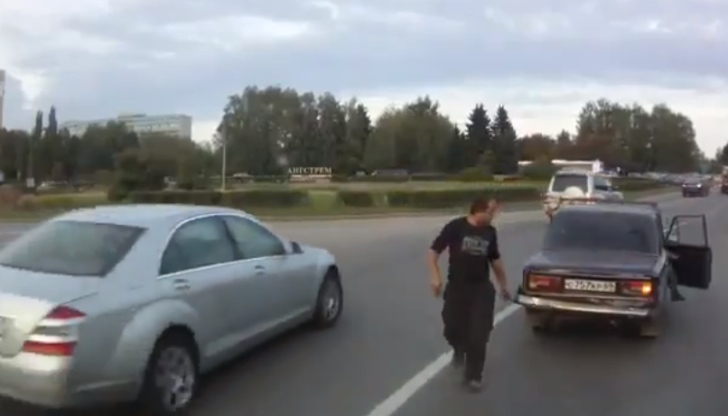 I've never really seen anything like this before because usually people are all mouth but this guy must have huge balls – he really doesn't give a flying fuck. You'll probably think twice about acting cool and cutting people up (no, not in that way you sick bastard) from now on. Check him out in action.
[yframe url='http://www.youtube.com/watch?v=FG1qcIAFSwg']