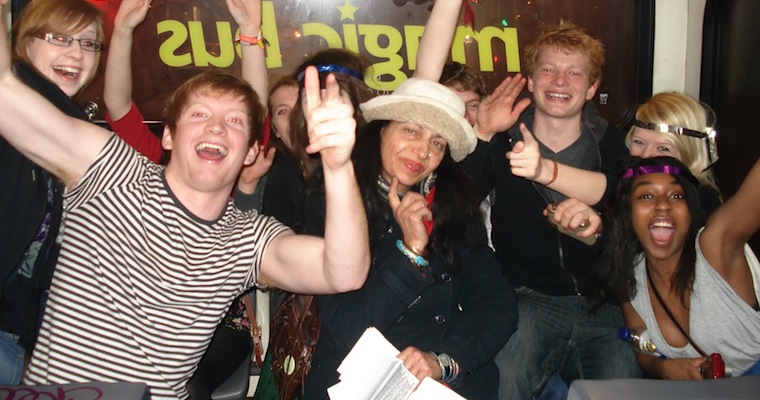 If you've ever caught a magic bus between Fallowfield and the City Centre of Manchester during the evening, you've no doubt come across crazy bus lady.
Crazy bus lady hangs around at bus stops and gets on buses to preach her insanity and give out handwritten pamphlets with the intention of informing the masses of a government conspiracy. It's rumoured that her son was a student who was taken by the government many years ago, which caused crazy bus lady to begin attempting to inform the student world of what's really going on with our government. I'm sure many have different stories about this weird and wonderful lady, but I'm sure all will agree that she is a lovely woman (although mentally insane).
When I lived in Fallowfield my old housemate was actually quite chummy with crazy bus lady and would speak to her about government conspiracies on a regular basis. He told me that her secret to keeping well nutritioned was to eat whole pieces of garlic and drink cans of chopped tomatos all purchased from the big Sainsburys in the middle of Fallowfield. There were also rumours that she sleeps in Platt Fields Park on the night and lives on benefits paid out for being mentally ill.
☛ More: Owen's Park Drinking Game Makes It Into The Daily Mail
☛ More: Hidden Camera Found In Toilet Of Manchester Bar 'Simple'
☛ More: Man Caught Taking Upskirt Photos In Manchester's Arndale Shopping Centre
Crazy bus lady would regularly knock on our door when I lived on Filey Road asking if she could use some hot water for a cup of tea, and on other occasions asking if she could use her shower. We told her to fvck off as politely as possible, until one day my house mate arrived back at our house after an all night acid binge, only to find crazy bus lady sleeping on our front step at 7AM. He was not amused. This resulted in a lengthy tripped out argument between my housemate and crazy bus lady which as you can imagine, made absolutely no sense at all.
I haven't seen crazy bus lady for a while since I don't usually get the bus down the Oxford road these days, is she still out there? Either way, here are a couple of videos of a dude from the States who would give crazy bus lady a run for her money. This guy is oblivious to his public surroundings and content of letting himself go while listening to his favourite tracks on his Sony Discman. Check it:
[yframe url='http://www.youtube.com/watch?v=jVBoX4xIAKI']

[yframe url='http://www.youtube.com/watch?v=3lQZWJh0JgE']

Props to @Idotadotspace for the tip.