Astana City – the capital of Kazakhstan – has been forced to apologise to its citizens after marijuana plants started sprouting up in a flowerbed in the city centre.
The locals noticed that sweet aroma as they walked down Auezova Street and hundreds of people alerted the council that there were literally thousands of marijuana plants growing there, which is a massive step up from the jokers who planted one flowerbed full of weed in Newport a while back.
A local man by the name of Mihail Malorod had this to say about it:
I was walking down the street when I saw these cute plants at the junction of Auezova Street and Dzhangeldina Street,' he said.

What a nice little flowerbed, I thought.

Then I realised what was going on.

Why was this happening?

What if this was the idea of the police? What if they wanted to catch all the junkies in our city?
Images VIA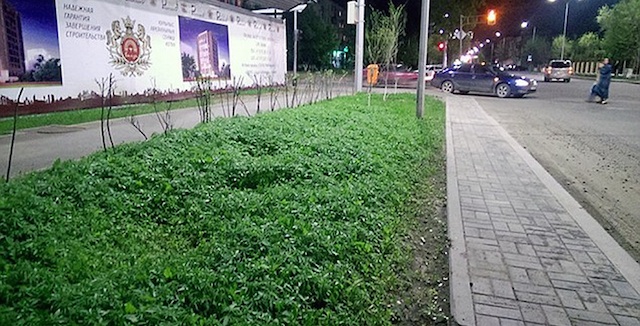 Although that seems like a slightly paranoid line of thought you do have to remember that this is Kazakhstan, which is pretty much a police state so it's pretty much justified. It would probably be an effective way to catch everyone that smoked weed too – I'm sure you'll agree that this is a great way for the police to use their resources instead of stopping all the other crap that goes on in their country like murder, rape, extortion and corruption. Good police work guys.
In any case, after being informed of the weed growing there via several complaints from people like Mihail, the council have literally no idea how it came to be planted there and are now launching an internal investigation into how this happened. They've immediately discounted the idea that the police planted it there and basically they think it could be a simple mistake or an act of what they're calling 'guerilla gardening'. Sounds serious but I'm not really sure what planting a bunch of weed there would even accomplish for any 'guerilla' movement, aside from being kind of funny when people write about it on the internet.
An independent gardening company named Zelenstroy, which is contracted by the city have also launched an internal investigation into how this has happened. They've pledged to remove the marijuana plants immediately, so if you're reading this in Kazakhstan and want to get high for free, head over there immediately. Just watch out for those undercover cops.