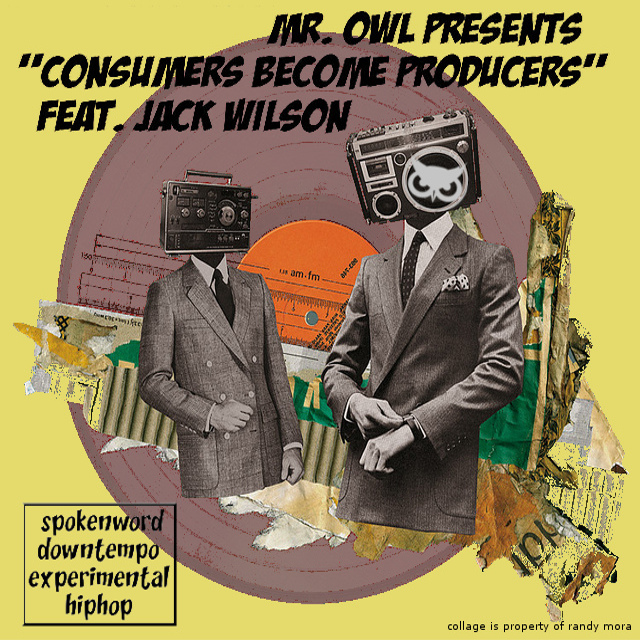 Although I often find myself frustrated and depressed by the barrage of bullshit that floods my Soundcloud inbox; however, sometimes, whilst wading through the anonymous links of producers longing for recognition, there is a moment of magic. And this Consumers Become Producers mixtape by Mr. Owl (of Dominate Force) and Jack Wilson is one of the more inventive concepts (and uses for Soundcloud), I've heard in a while.
Essentially, Mr. Owl spent tireless hours canvassing Soundcloud for various beats, compiled a mixtape of his favorite finds (with the producers' permission), and enlisted MC/poet, Jack Wilson, to rhyme over them all with the overarching theme of the musical consumer creating something new out of these Soundcloud treasures.
As Mr. Owl, himself, states:
As paradoxical as it sounds, artists might be the ultimate consumers: sponges on a reconnaissance mission to absorb what they will later wring into the bucket of their chosen craft – the resulting alchemy thus becoming the artist's own creation. On "Consumers Become Producers", Pittsburgh's Mr. Owl has soaked up and seamlessly blended some of today's most cutting-edge independent music into which poet/MC Jack Wilson regurgitates his own slop of socially-conscious wit and sharp hip-hop influenced wordplay to produce a groundbreaking mix of everything Owl and Wilson represent as creative consumers.
Check out the Consumers Become Producers Mixtape below and check HERE for the full tracklisting. This is a brilliant concept that is well executed. Tell your friends.
Mr. Owl – 'Consumers Become Producers' Mixtape feat Jack Wilson by MR. OWL