Conor McGregor has been in the news for all the right reasons for once in the last week after he announced that he was finally going to return to the Octagon on January 18th next year, but there's still considerable debate about who his next opponent will be and a surprising name has emerged as one of a contender in the form of 50 Cent.
Featured Image VIA 
McGregor thought that he had made friends with the rapper after the Floyd Mayweather fight back in 2017, but it turns out that this couldn't be further from the truth after 50 Cent took to Instagram o post up a bunch of memes mocking the Irishman. Take a look at them below: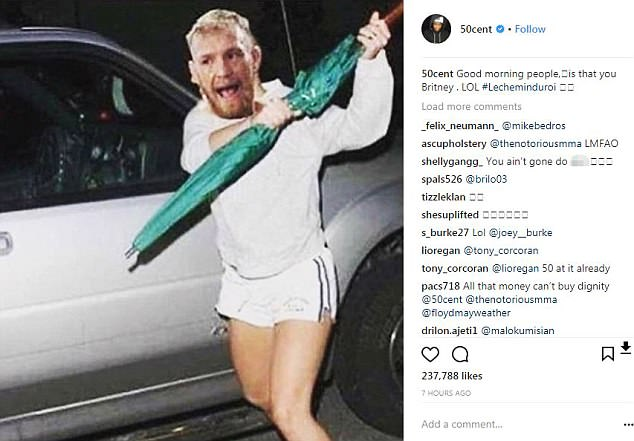 Of course, being the outspoken loudmouth that he is, Conor McGregor wasn't exactly going to take this lying down and responded with the following comments, challenging 50 to a fight:
I'd have to probably say 50 Cent, I'd like to fight him.
Throughout the course of the Floyd Mayweather build-up I used him as a tool, a promotional tool on the free also, I knew he was linked to Floyd so I tied him in also and he responded big time and capitalised on that audience so I was very thankful.
But then after that he began a little tirade against me on social media, particularly Instagram where he'd make these memes about me constantly.

Every time I'd go onto the internet I'd see 50 Cent had posted up some new stupid meme and I wrote on one of the memes – old man on the internet making memes – and then he blocked me.

So he's had to block me, and I still see sometimes, I still get tagged in other people saying he's saying this and he's saying that.

So I'd like to have a knock-off with 50 yeah, so if you're listening 50, let's get it going bud.
Well I doubt this is going to happen to be honest because 50 Cent would have to be an absolute idiot to fight a fully trained MMA fighter like Conor no matter how hard he thinks he is, but it's still kind of funny to see these idiots beef off with each in the press for no real reason. It's entertaining in its stupidity you have to admit.
For more of the same, check out this Russian guy throwing a water bottle at Conor during a recent press conference. Tagged him good.