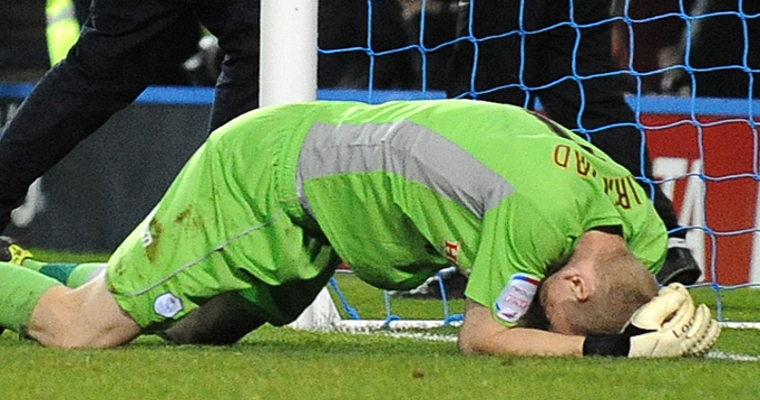 Allow me to set the scene…Sheffield Wednesday were making an industrious attempt at getting themselves out of the Championship relegation zone on a nice Friday evening at Hillborough against a play-off pushing Leeds United team who look good value for money at the moment. Jay Bothroyd opens up the scoring in the first half before Michael Tonge's stunning 77th minute equaliser silenced the home fans. However, during the celebration of Tonge's wonder strike, a 21 year-old thug of the Yorkshire variety's ADHD got the best of him and he got hopped up and ran on the pitch with the intent of putting The Owl's goalkeeper smack on his ass.
This was just one of several ugly scenes that erupted in the usually wholesome steely city as fan trouble escalated to the extent where five arrests for various offences were made including public order but I think you can get that for pissing in a bin in public.
[yframe url='http://www.youtube.com/watch?v=8WLhKsI_0Gg&feature=g-logo']
Kirkland all ready had egg on his face after the equaliser hit the back of the net and the Ex-England international didn't know what to do when the hooligan ran on the pitch to confront the injury-plagued Wednesday stopper.
Sky Sports caught the whole thing and showed a couple of replays…not like when a stripper runs on and they bottle it at snooker matches. The suspect was arrested today after being quickly identified on social media sites with loads of fans doing their best to point the electronic finger (that sounds dirty). Someone even thought it might be a laugh to post a mobile phone number of the knob but I'm sure that'll just work in his favour and he'll get some birds out of it.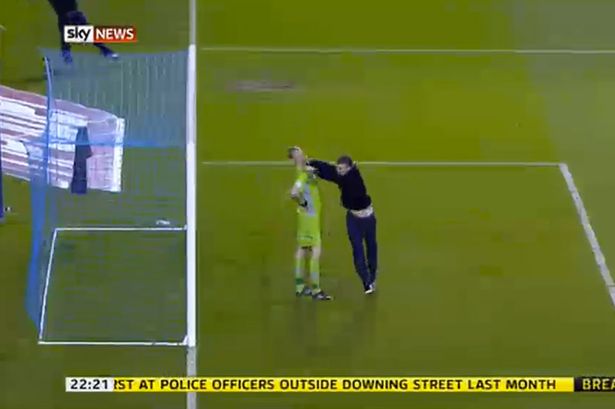 Dave Jones went absolutely mental after that game and told Five Live, "It's a football match and we're looking at blaming police and stewards because they're not there. He was a hero, he ran in the crowd, they were slapping him on the back so what do you do about that? It's not one person. In this country we seem to end up going with the minority all the time and it's going to take the majority to sort it out and you've got to police your own clubs."
Neil Warnock got a bit of stick himself when he made his players go and applaud the away support but after the game he took the time to address the unruly situation: "Every club has got these fans and for me it's got to start at the very top now. We know the lad who assaulted him and he's got to go through the courts and they've got to make it detrimental. It's all right saying 'go in and get them out', but you've got to be there. It's frightening for stewards – I wouldn't want to be a steward. There shouldn't be any way whatsoever that people should be allowed to run on the field of play."
Follow AMJ @amjeezie
Follow Sick Chirpse @sickchirpse