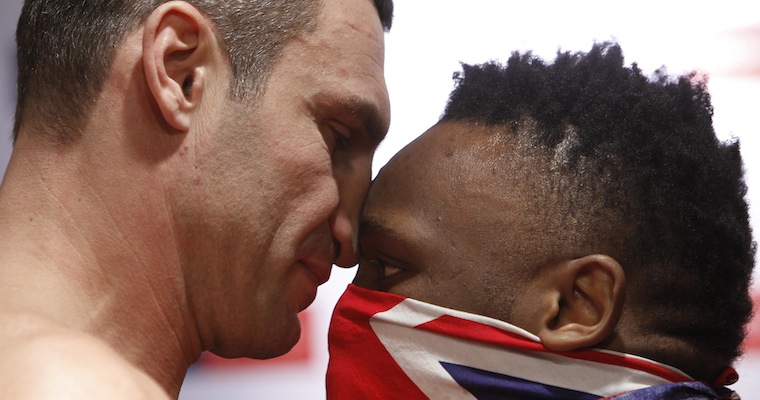 What we have below is a clip of heavy weight boxers Dereck Chirsora and Vitali Klitschko weighing in before their much hyped fight that's happening tonight.
Let me set the secene, Chirsora rocks up with a Union Jack bandana covering his face 'cos he's hard innit and Klitschko rocks up in his usual chilled out manner cos he is actually fvcking hard as nails and doesn't have to wear any gangster apparel to prove it, it's a fact. When the two come face to face after the weigh-in and do that standard gay kissy kissy thing Chirsora lands a complete sucker slap on Klitschko in front of everyone there including all the cameras.
Now if I was Klitschko I would have drawn back that fist and punched the fvck out of Chirsora, but being the bigger man (quite literally) he steps back, collects his thoughts (which you can tell are about raping Chirsora's mother) and stays calm.
It goes without saying that this is now one of the most hyped up boxing matches due to Chirsora's behaviour before the match.
[yframe url='http://www.youtube.com/watch?v=qQa5iVixDzk']