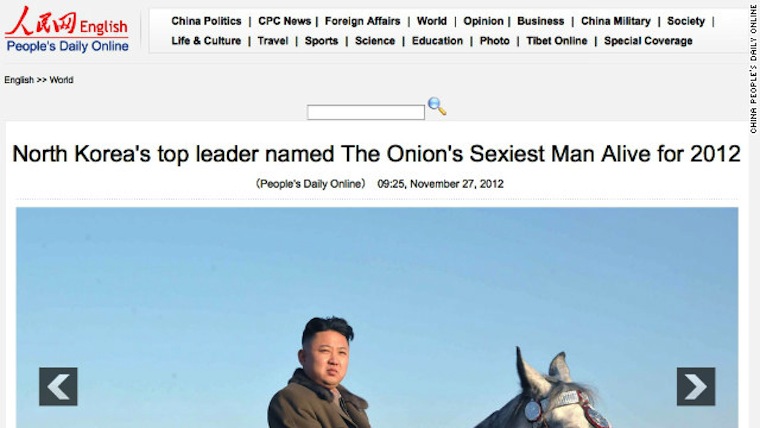 Wah wah wee wah! This sure has brightened up my day! The sun is already shining where I am which is pretty incredible considering it's almost December and half of the country is flooded, so I think that merits a good enough reason to be pretty damn happy this morning. The fact that the China just got their asses totally PUNK'D is a massive, massive bonus.
We can all thank The Onion for this historic punk. The Onion are well known for their sharp and witty satirically humoured website that runs spoof news stories on a daily basis. I have to admit that I did in fact fall for one of The Onion's news stories many years ago, before I knew what their craic was. Come on, it's an easy mistake. But I think it's pretty amazing that a national Chinese communist newspaper would fall for a story so ridiculously STUPID and obviously full of bull-shit.
What went down was that the online version of China's Communist Party newspaper wrote a story on a report that The Onion had previously released, naming North Korean dictator Kim Jong Un as the "Sexiest Man Alive" – L O FUCKING L.
The People's Daily ran a 55-image photo spread on its website on Tuesday, dedicated to how gorgeous the new North Korean leader is. The online paper has since removed the article and admitted that they now realise the original article posted by The Onion was satire.
☛ Read Next: Elevator Prank That Will Actually Make You Shit Yourself
Here's what The People's Daily had to say about Kim Jong Un (as they quoted from The Onion's article):
"With his devastatingly handsome, round face, his boyish charm, and his strong, sturdy frame, this Pyongyang-bred heartthrob is every woman's dream come true."
"Blessed with an air of power that masks an unmistakable cute, cuddly side, Kim made this newspaper's editorial board swoon with his impeccable fashion sense, chic short hairstyle, and, of course, that famous smile."
10/10 guys – this is an epic one to pull off.