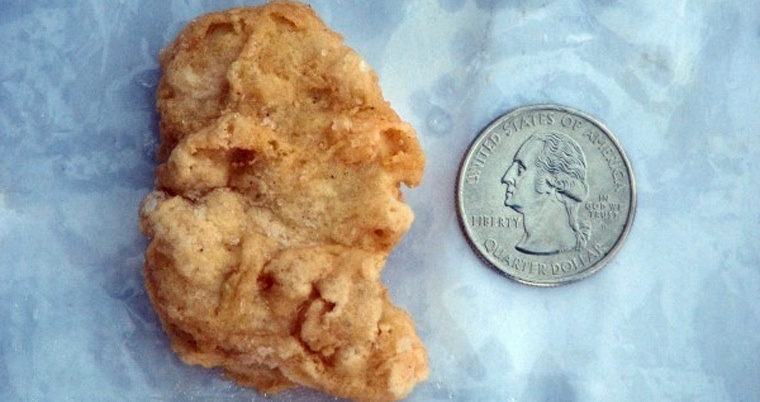 The George Washington chicken nugget saga continues. If you've got really good taste then you probably read my article on a McChicken Nugget that sold for over $8,000 simply because it apparently looked like George Washington. If you didn't read it, then do yourself a favour and get up to date with groundbreaking news. You can read it here.
There's always someone who ruins the party, though, as we all know too well. The winner of the bid on eBay has backed out of the deal to buy the nugget. What a cocktease. There were over 70 different bids for the nugget so why the fvck would they go to the effort of out-bidding everyone when they know all too well they haven't got the money to cough up? There's a couple of reasons, actually, when you think about it: 1) They're an absolute troll who loves giving people false pretences on eBay, they wank over the thought of the seller's heart skipping a beat and going into palpitations when they've just sold something but then the smile crumples and they slit their wrists when the winning bidder backs out of the deal – that's some hardcore fetish for you right there –  or 2) they wanted to get famous and thought backing-out of such a big deal would lead to journos camping outside their home/caravan/tent for days just to get a glimpse and a few words from the mystery 'Chicken Nugget Bidder'.
Well, this mystery bidder may have had a good wank but they certainly haven't got famous. The second highest bidder will now receive the nugget, and seeing as their bid wasn't too far away from the actual winning one, Rebeka Speight (who's the seller of the nugget) will still get plenty of cash to help fund a summer camp for some bible-bashers.
There's probably gonna be more twists to this story so check in for more.
Here's a video for you with some smarmy Americans. It's of when the nugget first went up for sale.
[yframe url='http://www.youtube.com/watch?v=ZRVUe4Lk3Kk']