Charlie Sheen's ex-personal assistant Steve Han has shared a story about the first time he realised something was seriously wrong with his former boss — back in 2012.
Featured Image VIA
It all went down at a house party with paid-for porn stars and a bunch of Charlie's friends in attendance, when a shirtless Charlie started playing around with a large knife in front of everyone.
As he was drunk and high on crack, the blade eventually slipped and Charlie accidentally sliced his own leg open, causing blood to start pouring out.
Typical Charlie, Han thought. Crazier things have happened at these parties. Blood spattered onto the carpet and onto an iPad, and one of Charlie's friends started pointing at the blood and shouting "that's tiger blood! Charlie that's tiger blood!"
Pretty light-hearted considering what just happened, except Charlie started freaking out and screaming "Don't touch my blood! Don't touch my blood! I got this."
Han thought this reaction was very un-warrior like. Very unlike Charlie.
At the time I thought maybe he's got Hep C or something, but I never imagined it was much worse.

I knew he was dealing with something major but couldn't put my finger on it.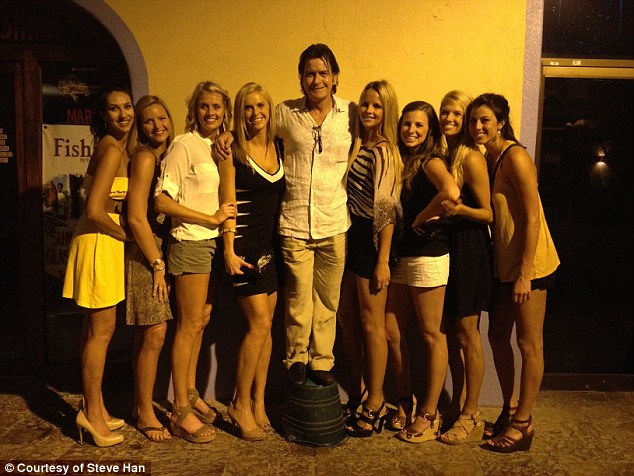 Han had been working for Sheen since early 2011 and regularly travelled around the world with him. Eventually Sheen told him the truth:
I remember we had been down to Cabo in Mexico on a trip in December 2012.

There was a group of us: me, Charlie, porn star Georgia Jones, two other girls, a couple of friends and security.

The plan was to spend New Year's Eve in Cabo at a private villa but we wanted to fly back early to avoid a storm and we got back to LA the night before.

We celebrated New Year's at Charlie's house instead, just a small gathering.

I remember I had got in to some drama with one of Charlie's body guards, he had been giving me a hard time and it upset me.

That night Charlie took me to one side to ask what was wrong.

We were sitting at his kitchen table and I unburdened myself and got a bit emotional, I told him all my problems.

We were just being very honest with each other, I was explaining my feelings towards what was wrong with the body guard and he just started to talk about his problems and said life isn't perfect.

Then he just came out with it, 'I'm HIV positive', he was so blasé about it.
When Han asked him if knew how he'd contracted HIV, Sheen simply responded:
I fucked up.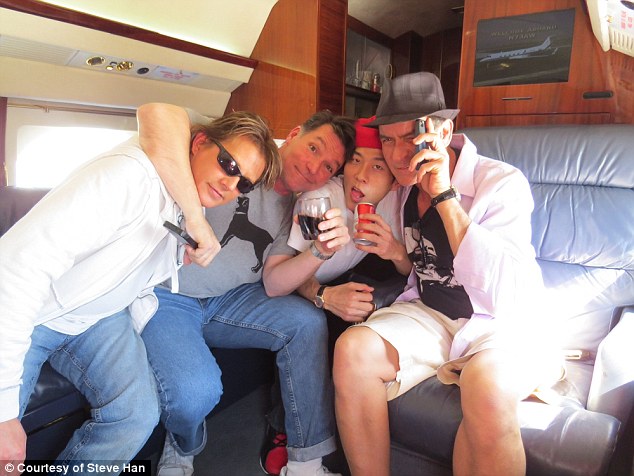 Charlie Sheen opened up to the world about living with HIV a week ago, and is now dealing with the potential leak of a video that shows him performing oral sex on a man and smoking crack in a hotel room.