Who's ready for a tasty bit of Tueday night treble action? All aboard the Champions League train.
We'll start this fine Tuesday with the big bet of the evening – the both teams to score result treble.
101-1 treble bet will turn £10 into £1054.
Click here to claim your free £50 bet.

Chelsea to beat Basel with both teams to score – 3-1.
Last time these two teams butted horns the Swiss brought Stamford Bridge to their knees with a shock 2-1 victory. After Chelsea led through Oscar's goal on the stroke of half time – everyone assumed the blues would walk it due to the fact that it was Morinho's first Champions League game since his return to Chelsea – not quite so simple though. Goals in the 71st and 82nd minute made sure Chelsea left red faced. With that in mind and the qualification not quite sured up yet Morinho will be going at this game with only one thing on his mind – the win. Basel need to score in order to have a chance of qualifying themselves so goals are on the horizon for sure
Athletico Madrid to beat Zenit with both teams to score – 15-2.
This is the biggest chancer of the treble according to the odds but in many ways it looks like the one that is most bolted on. Athletico Madrid treated themselves to a well fought 3-1 victory at home when the two side met in September, difference this time will be that Zenit know that a win would put them through into the next round where Athletico may settle for a draw. Biggest point to note is that Madrid have won 4 out of 4 in their group and are the only team in the league with a plus goal difference, and with Diego Costa up front there is no wonder why. Hulk may snatch one at home so a 2-1 Madrid victory looks the order of the day.
---
---
Dortmund to beat Napoli with both teams to score – 21-10.
Borussia Dortmund need to win this if they want any chance of going through to the knock out stages, it really is as simple as that. Dortmund lost 2-1 in the return leg and with Napoli's strikeforce including the likes of Hugain you can definately see them snatching a goal. Dortmund and more importantly Lewandowski will turn up though and this group really will go down to the wire. 3-2 Dortmund final score. A grand in your pocket. Done.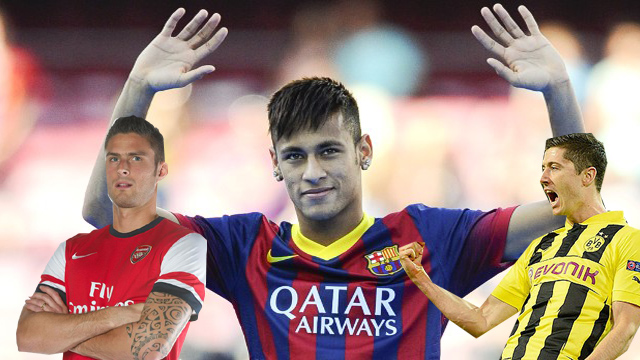 Turn £10 into £85 with Coral Goalscorer Treble Special – Giroud, Lewandowski, Neymar anytime 15/2.
Click here to claim your free £50 bet.
Giroud has been bagging a few in the past couple of weeks including a cheeky 2 on Saturday so odds have got to be on him to grab a goal at anytime. Lewandowski will score at home to Napoli, Reina won't have a chance at keeping the Polish striker off the scoresheet. Fact. The final shout of the day is the wonder kid Neymar to snatch a goal in 90 minutes away at Ajax, a team they beat 4-0 at the Nou Camp back in September of this year. Messi won't be starting in this game and chances are the play will run through Neymar. When you consider that these 3 players may be the penalty takers on the evening as well – it is got to the one to go for.
A couple of other games on tonight if you wanna know what the game is:
Tue 26 Nov 2013 – Champions League
Basel v Chelsea 19:45
Steaua Bucharest v FC Schalke 04 19:45
Borussia Dortmund v Napoli 19:45
Zenit St Petersburg v Atlético Madrid 17:00
FC Porto v FK Austria Vienna 19:45
Ajax v Barcelona 19:45
We've got our bets on so join us and get bashing those bookies. What else are you gonna do on a Tuesday night?
Click here to claim your free £50 bet.

Here's a cheeky little clip of Neymar doing what Neymar does to get you up for the Tuesday football. Enjoy.
[yframe url='www.youtube.com/watch?v=ko5g5fP57gI']