Remember CeeLo Green and his mega hit where he saw his buddy driving round town with the girl he loved and he was like forget you, forget you ooh ooh ooh? Or maybe you remember the Christian version Bless You? Or the sign language version? Either way, it turns out that maybe his girl was justified in leaving him because he's actually a bit of a raper. Or doesn't understand what rape is at least.
Green was in court yesterday on charges that he slipped a woman ecstasy without her consent during a dinner date. The woman then said she remembered nothing of the night before waking up in bed naked with Green. Green pleaded no contest to the charges (basically not offering a defence and conceding to the charges, without actually admitting his guilt) and his lawyer argued that the two had consensual relations. No rape charges were filed due to a lack of evidence. Green was sentenced to three years probation and 45 days community service for possession of ecstasy.
However, when a bunch of fans/critics asked Green about the case on Twitter, he posted an increasingly bizarre bunch of rants about the nature of rape, the most upsetting being one that seemed to imply it wasn't rape if the person being raped was unconscious. He later issued an apology via his Twitter account before deleting the whole thing, but thankfully we've got the screenshots, which you can see below, along with his apology below that.
Needless to say, Green didn't really do himself any favours with these outbursts and has probably alienated most of his fan base with these comments which are borderline inept at the best of times and completely uneducated and retarded at the worst.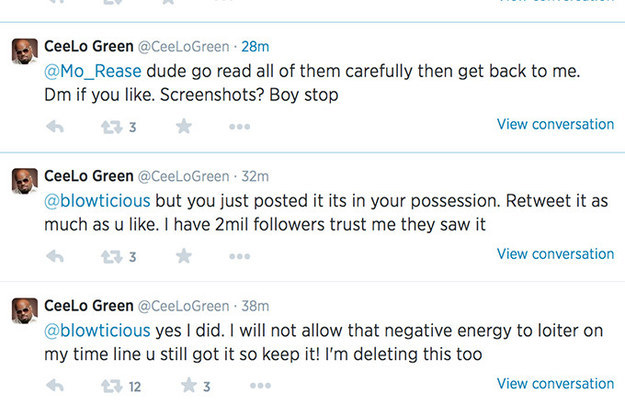 You deleted this one too. RT @CeeLoGreen: women who have really been raped REMEMBER!!!

– Pardo (@blowticious) September 1, 2014
Here's the apology:
Let me 1st praise god for exoneration fairness & freedom! Secondly I sincerely apologize for my comments being taken so far out of context. I only intended on a healthy exchange to help heal those who love me from the pain I had already caused from this. Please forgive me as it was your support that got me thru this to begin with. I'd never condone the harm of any women. Thank you.
Hmmm. Not sure if he's getting out of this that easily.