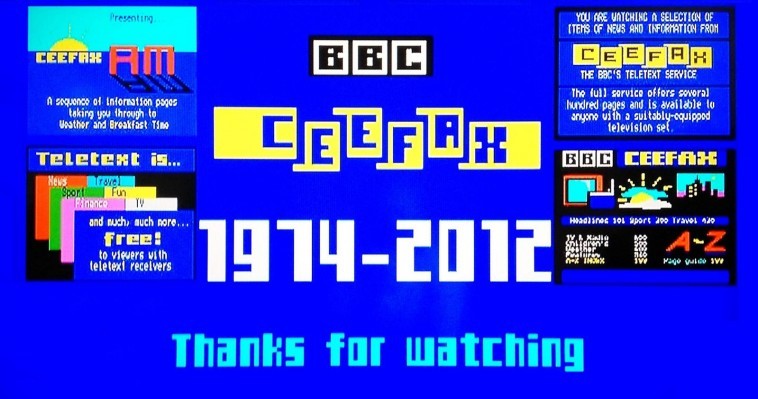 Well this news has left me very upset and actually quite angry.
How the hell am I expected to find out if I've won a tenner on the lottery? How am I supposed to check the Championship scores because I've accidentally pressed the wrong number and by the time the fvcking page loads I will genuinely be interested just because of how long I've waited? Where am I suppoed to find news bulletins expressed in horribly pixellated square letters and garish colours? How will I pretend it's still the 90's and convince myself that the internet is so complicated and magical that it literally scares me?
17-year-old Jordan, from Lewes, has been left bemused by this decision, protesting, "Despite being one of the internet generation I always liked Ceefax. In fact, when its demise became news, I didn't understand the jokes being made about how slow and unreliable it was – those people had clearly not used it in the latter stage of its existence because it nearly always loaded fully and quickly for me."
I admire your defiance Jordan but unfortunately this ship has already sailed.
Bryan, from Southport, will find it hard to accept this loss, telling the Ceefax farewell page, "I even travelled to north-east England to see the final moments of Ceefax before their region switched off analogue on 25 September [2009]. That's dedication for you! The luxury of accessing Ceefax again was thrilling." 
That is dedication Bryan, and we salute you.
Some people went a step further and sent in some literature that they had prepared in homage to our beloved Teletext service.
Richard, from Kent, shared this touching piece: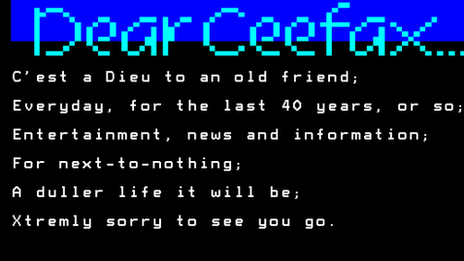 Did you notice the first letters of each line? Amazing. Thank you, Richard. Ceefax would like that.
Sarah, from Suffolk, spent days composing this exquisite poem: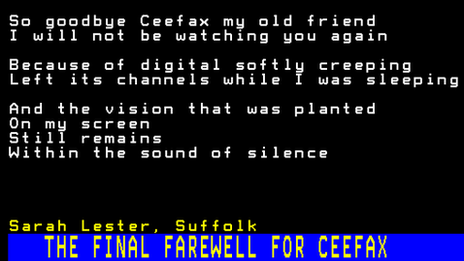 Powerful stuff. Thank you, Sarah.
On behalf on Sick Chirpse, I'd like to say thanks for 38 glorious years Ceefax. We'll miss you, buddy. RIP.