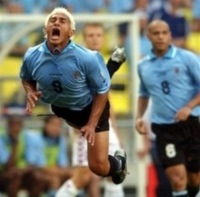 Watching the Arsenal V Shakhtar Donetsk earlier tonight I was slightly confused when I heard the commentator refer to one of the players as Dario Silva – I'd thought that the former Portsmouth striker (3 goals in 15) had been involved in a car crash a few years back and had tragically had to have his right leg amputated. Turns out the player in question was actually Darijo Srna and the commentator had either mispronounced it or I had misheard it (both are equally possible), but nevertheless my interest in what had happened to Silva in the remaining years was piqued and I decided to look into it.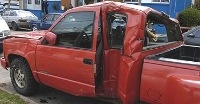 My initial thoughts were indeed correct, and on September 23rd, 2006 Dario Silva had been involved in a car accident when he lost control of the pickup truck that he had been driving and it collided with a streetlight, resulting in the amputation of his right leg below the knee.
However, despite initial difficulty coming to terms with the accident and being offered punditry work in Uruguay, it seems that Silva was determined to play football again and concentrated on his rehabilitation with a prosthetic leg.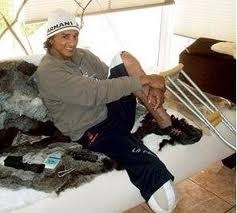 Wikipedia claims that during his three years in rehab, he actually joined a semi-professional local team (local to where Wikipedia, huh!??) called Les Bastilles and managed to score 40 goals in 31 appearances!! This seems fairly unrealistic due to the fact that it would be difficult for a 36 year old player with two good legs to get a record anywhere near that. There is also no other information on it anywhere on the internet I could find.
Wikipedia continued this unrealistic line of narrative, by claiming several scouts from the MLS had been to see him play and he had even had a trial with Toronto FC. Having said that, given that when I lived there Danny Dichio and Birmingham City reject Olivier Tebily were two of Toronto FC's best players, perhaps a one legged Silva would have improved their chances in the MLS. Again, these claims are unconfirmed.
However, multiple reliable sources report that his dreams did come true, rather amazingly, when he turned out for a Uruguayan All Star XI playing an Argentinian All Star XI in a charity match in 2009. Silva actually scored a penalty in the game which you can see below! Fittingly, players from both sides and the goalie mob him after this remarkable achievement.
httpv://www.youtube.com/watch?v=_GpEzepACE0
Through this, his youngest son Diego, also got to realise his dream of seeing his father play football in a big stadium. Pretty inspirational stuff. Given what I remember of his performances for Portsmouth, it's even more surprising – his goal record was 1 in 5 and he had his contract cancelled early because he was so bad he couldn't get in the team.
Silva has now turned his attention to rowing, and hopes to compete at the London 2012 Olympics. I might go down and shake his hand. What a guy. To finish this article, here's an interview with him where he talks about life after the accident, listens to the 90's song What is Love? by Haddaway, tells some kid he got rid of his wife because he doesn't like her anymore, hangs out at his ranch, scores a bicycle kick and then plays the guitar for a bit:
httpv://www.youtube.com/watch?v=GSORtZwiJFU