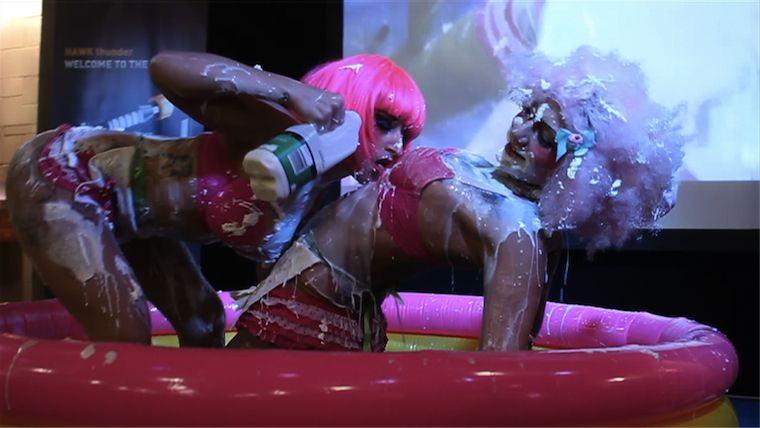 I haven't made a cake in a long time but I'm pretty sure when I used to make them when I was a kid with my little mommy that we didn't use a method that was anything like this. In fact, I don't think I would have understood what the hell was going on if my mom had made me make a cake like this, but then I don't think my mom is a Jimmy Saville kind of figure so there was probably no chance of that happening.
The Doncaster tattoo jam a couple of weeks ago featured this piece of performance art featuring two women  in paddling pools pouring milk and cream all over each other. It's called a cake fight. From this video I'm not sure how anyone wins a cake fight (or if a cake fight even involves a cake being made at any point during or after it) but it looks like a lot of fun for everyone involved, and probably even more for those watching. Like I said though, I don't really know who won or anything, I just enjoyed watching the fight.  The girls involved in the cake fight actually have it choreographed for maximum impact from its performance, and they take the show on the road and they do all over the place, so you know maybe a cake fight will be coming to a venue near you pretty soon? It's something to look out for anyhow. I don't really get performance art but I enjoyed the cake fight video. It's a lot better than this piece of performance art of a girl dancing on butter to Adele, anyhow.
☛ More: Girls Wrestling In Coleslaw 
One of the women in the fight is called Aima Indigo who is probably going to appear on Sick Chirpse a few more times in the coming months so keep an eye out for her. She's a crazy cartoon obsessed character model based in London. From a mexican background she is fiercely proud of her latina heritage and has appeared in numerous publications worldwide and is a featured model with UGLY agency among others. Aima is probably most notable though for being pretty much covered from head to toe in tattoos. As well as modelling you can also catch her CIRQUE DU SOIR Worldwide where she specialises in body modification shows, fire and angle grinding or running her jewellery company known as Purple Poison Jewellery.
You can follow her on twitter @aimaindigo and check out her Facebook page HERE, or alternatively just check her out in the Cake Fight video below before you check out all that other stuff. It's definitely something special. This video was also filmed by our friends over at We Free The Box who are going to be helping us with a lot  more video content in the future. Check out their website HERE and follow their twitter @wefreethebox. There are also some stills from the event underneath it.
☛ More: Woman MMA Fighter Cleans Out Opponent 
☛ More: Brazilian Fight Clubs 
[yframe url='http://www.youtube.com/watch?v=Veh-C4gG2qw']