When it comes to the great British fry up, I'm not really sure that there's many ways to improve it but one burger van from Wales is trying to by offering a massive one that's embedded in a loaf of bread.
Images VIA
Rolling Rolls in Bridgend has come up with the meal and to say it isn't good value would be absurd – for just £10 you get four sausages, four rashers of bacon, four eggs, four hash browns and beans all contained within a round bit of bread. Apparently you're supposed to share it between two people – something that sounds realistic to me, but a lot of people finish them themselves anyway.
Here's what 52 year old owner Michelle Preston had to say about it: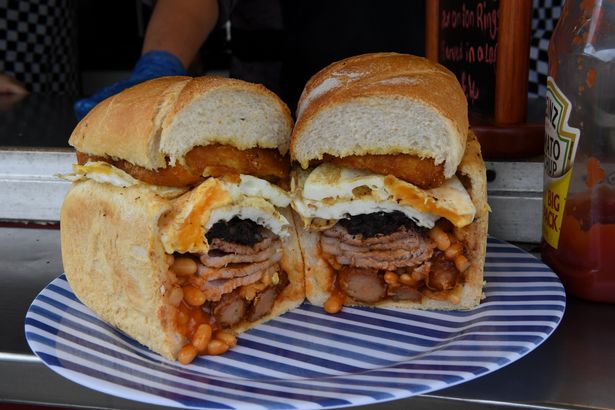 Someone asked us to start it as a challenge and we thought why not?

It has proved really popular with customers and so many people have been trying to finish it.

It's quite a large breakfast and really it's for two people but most people seem to eat the whole thing by themselves.
I think the idea looks great but I guess it might be kinda complicated to eat it, especially if you're at a burger van where there might not be any seating/cutlery options. I mean I'd be all for trying to stuff it in my face but it really looks like the kind of thing you might have to sit down with and cut up? Thoughts?
For more breakfast, check out this Full English that you can get served in a Yorkshire Pudding. Hot damn.