As far as ridiculous traditions in this country that are somehow still honoured year on year, you can't really beat the Atherstone Ball game for sheer stupidity.
Featured Image VIA
For those of you who have never heard of or experienced the game, let me explain. For 820 years in the town of Atherstone – which is somewhere in North Warwickshire- every Shrove Tuesday everyone gathers in the main street of the city and then a weird massive ball is thrown out of the first window of a building and everyone beats the absolute crap out of each other to have possession of it at 5pm and be declared the winner of the game.
As stupid as that sounds, that is exactly what happens every single year on Pancake Day and it only seems to be getting more and more brutal judging by the footage below – watch out for the guy looking like he's cracking one off about halfway through:
https://www.facebook.com/UrbanPicturesUK/videos/2369040173329425/
Jesus Christ – yeah it is pretty much just an excuse for the (probably inbred) residents of Atherstone to get out there and beat the living shit out of each other. Fair play to the lads who I assume took refuge inside that narrow doorway and managed to defend themselves until the end because that looked like one hell of a tactic as nobody was getting past them it seemed.
Most people seemed more content with just fighting each other in the crowd in than even trying to get the ball towards the end. Typical.
The winner of the game was a guy called Jonathan Slesser who has actually won the game four times before and took over the mantle from his teammate in the Grendell Lads Macauley Riley who won last year. Sounds like they're the firm that needs to be taken down if you wanna win this thing. Slesser had this to say about his victory: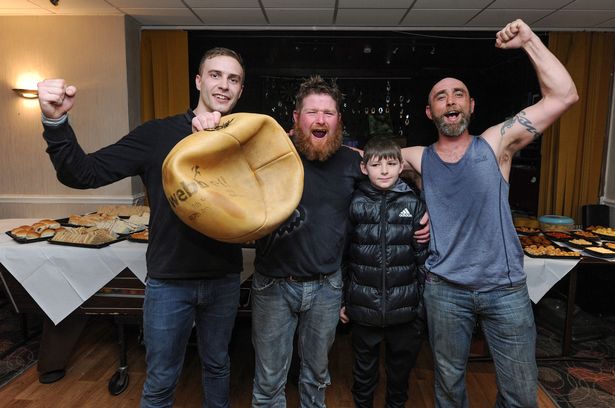 This means everything to me and the team. This is the Ball Game, it is what we are here for.

It wasn't too bad this year. This one was a little bit easier than the rest but it is still really difficult. You do what you can where you are. I had my team behind me so I was alright. If it wasn't for them I would have been stoved in and in a lot worse state, I reckon!

They fought everybody off and stopped them from getting to me. I am nothing without my team, I owe it all to them. I wasn't that confident in winning at the start, tactics are a spur of the moment thing. I think it is somebody else's turn to win it next year now!
I mean fair play to him but I doubt anyone is going to mess with him or his team really. Look at them FFS. Probably content to just watch the highlights of the game myself. Way too mental to get involved in.
For more on the ball game, check out footage of previous events here. It just seems to be getting more and more brutal.