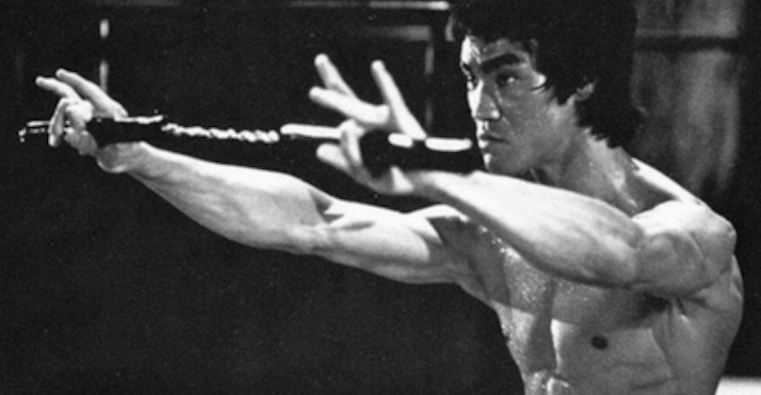 This is really old but I had never seen it (despite the fact we actually featured it on Sick Chirpse back in March….um I guess I must have been on holiday or something?)  and it just got re-uploaded onto Facebook because it was Bruce Lee's birthday a couple of days ago, and I figured some people might have missed it, and in any case it's still fvcking cool to watch and the reaction of all the idiots who thought it was real is priceless in itself. How did so many of them miss it first time round, and how do so many of them watch it and believe that it's actually real? This is what the guy who uploaded it onto Facebook said about it (It has had about 145,000 shares and  in about 2 weeks):
'A priceless clip of Bruce Lee…This is a short clip done in the late 60's of Mr. Bruce Lee using Nun chucks to defeat a Ping Pong game opponent. Even with two opponents. (This is actually being used as part of Nokia phone promotion campaign overseas, but the footage is real). His focus on speed, reflexes and accuracy was absolutely incredible! And this was long before the days of photo-shop and high-tech special effects.He was the true king of all martial artists (on several levels), and innovator to the sport, and NO ONE was or may ever be his equal in that regard. Watch and judge for yourself. He makes it look almost effortless.'
Wow. Sounds pretty good right? Check it out below:
[yframe url='http://www.youtube.com/watch?v=SncapPrTusA']
☛ More: Prometheus Released On DVD, Facebook Users Go Crazy
Wow. Of course this isn't actually true as not even Bruce Lee could play ping pong with a pair of nunchuks. Are you fvcking dumb bruv, like anybody in the fvcking world can do what he did in this video? Wikipedia clears it up for us with the following statement: 'This was a viral campaign to promote the Limited Edition Bruce Lee N96 for Nokia.The person is not Bruce Lee but a chinese national who has won multiple Bruce Lee lookalike contests in China. He is also a student of Jeet Kune Do.The video was shot using a background sound of people playing ping pong so that "Bruce" and the ping pong players know when to "hit" the ball. The ball was later superimposed into the video + sound and all.' Pretty sick campaign huh?
Apparently the phone was only available in Hong Kong back in 2008 (and you got a free action figure with it!) and cost about £1000 so I probably wouldn't have bought it, I mean who the hell would buy a $1000 phone? It's gonna be pretty much obsolete within 6 months anyhow so you might as well have just paid a fifth of that for a blackberry or whatever fvcking phones were out around then. THe video obviously went viral though, so you might have seen it so please don't troll me about it being old like you all did yesterday over the rainbow clip? K thannks. I only brought it back up because of the guy posting it on Facebook and loads of people sharing it because they actually thought it was real, like the guy who sent it over to Sick Chirpse who's name is  Martin Bavone. I was gonna give him a shout out but he isn't getting one now for recommending something that was so obviously fake. Here's a bunch of other screen grabs of the comments on the orignal guys post. Not sure if the original guy was a troll or actually believed it either, who knows. What a bunch of idiots. If you want to see more of these head over to the dude's Facebook page HERE
☛ More: Ridiculous Paralympics Table Tennis Shot  
☛ More: Chat Roulette Evolution – Battle Roulette