Polyamory is becoming more and more acceptable as the years roll on and more people seem to think it's just not right that people should spend their whole entire lives with just one person, but even so stories like the one featured here are a bit strange.
Images VIA
We're in Ohio, USA for this one where Karalyn Henry was set to marry her childhood sweetheart last year. However, whilst that might sound excellent for most people, Karalyn realised there was something missing and that this was actually another person in the relationship.
After revealing this to her fiancee Justin, he was more than happy for Karalyn to date another girl as well as him, and so Karalyn jumped onto the internet and started an online relationship with a girl from Ireland named Lana (I guess there weren't any suitable candidates in Ohio?) and the next thing you know, Lana was attending their wedding as a bridesmaid and then embarking on a relationship with both of them.
Karalyn explains just what went on:
I brought my worries up with my now husband, and he nonchalantly said, 'Well you can just date a girl on the side'.

My mind was blown – I didn't even think that was a possibility to be honest.

We gave it a go though, and it just worked so perfectly that it stuck to us.

I don't know if I could go back to being monogamous – polyamory just works so well for us.

When Lana flew over for our wedding, they both developed crushes on each other, and started dating as well.

That turned us into a regular Poly Triad.

Lana still lives in Ireland but when she comes over to visit, we all stay together and take turns sleeping in the centre of the bed.

And when she comes back, we have plans to go on dates together and separately.

Seeing both of my partners together, holding hands, cuddling – it's adorable, and I'm just so happy to see them so happy!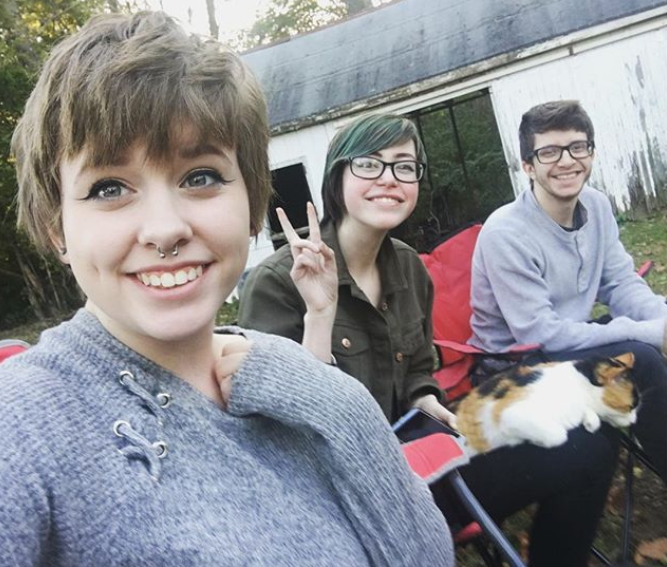 I mean even though I think it's weird you do hear about these polyamorous relationships and people in them do usually tend to at least seem fairly happy until it all falls down around them. The thing that's so weird about this one is that the Lana girl lived in Ireland and flew over for it?
Like couldn't they have just found someone in Ohio or at least the same country as them if they wanted to pursue this lifestyle? Seems so weird that she probably only flies over every six months or something and they do this, like what the heck are they doing the rest of the time?
Sounds like a really weird power dynamic/relationship and like there's definitely more to it. We'll probably get an update in a couple of months where one of them has left the other for Ireland or they've murdered each other or something. Watch this space.
For more of the same, check out this rare cheetah threesome that was caught on film. Crazy.