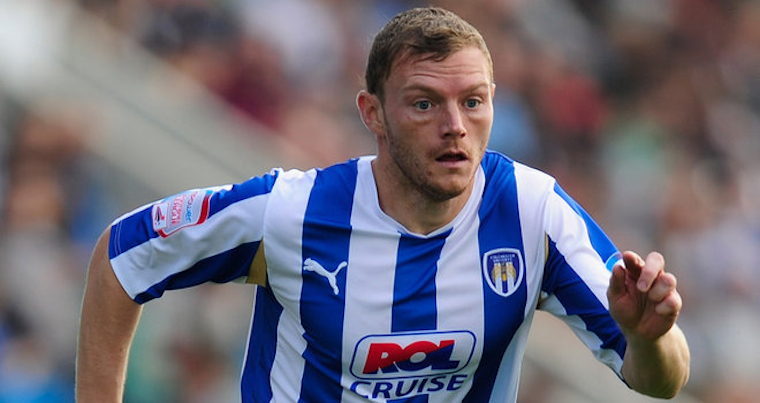 I don't know who Brian Wilson is either but apparently he's a central defender who has been trawling around the lower leagues his whole career which probably explains why nobody reading this has ever heard of him before, unless you're a Colchester fan. Unfortunately my knowledge of the lower leagues is fairly minuscule too and probably extends to the time I went to see Rotherham V Oxford United once or when I occasionally watch the Football League Review and laugh about the fact that players like Dave Kitson are playing in League One now.
Anyway this own goal isn't that spectacular or anything, as normally here on Sick Chirpse we only feature really weird ones or really tekkers one, it's just quite jokes how Brian Wilson is completely perplexed by everything that is happening in it and has no real clue what's going on and thus really looks like an idiot after this one. Granted everyone does really look like an idiot after the score an own goal but this guy just looks really stupid and dumb rather than an idiot for making a really dumb mistake and slicing it or whatever. It's probably better just to let you watch it and make your own mind up about it because it's way funnier if I don't tell you what's going on it before you see it.
One cool little nugget of information though is that the player who centres it for the goal is none other than Matt Derbyshire who is now somehow playing in League 1 despite having formerly won the Greek cup with Olympiakos (scoring 2 goals in the final including a last minute equaliser) and the league cup with Birmingham (despite never really playing I think he got a medal). I guess it all goes to show you can have it all and then lose it, and then only be remembered because someone else scored a comedy own goal that you were kinda involved with. If he was a better player though I guess he would have just scored it himself though.
☛ More: Most Tekkerz Own Goal Ever 
☛ More: Top 3 Russian Own Goals In History 
☛ More: Leon Knight Commentates On YouTube Clips Of His Goals 
[yframe url='http://www.youtube.com/watch?v=HvKdppsbW5E']