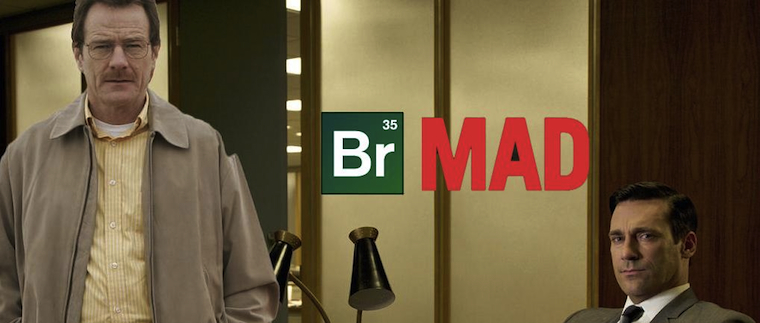 Here at Sick Chirpse we love Breaking Bad and we love Mad Men. I think everyone who likes either show probably would agree that Mad Men has way better credits/music in comparison to Breaking Bad though – I mean that show doesn't even really have any credits or a title sequence. Although it is kind of cool that they use the periodic table to make up the logo on Breaking Bad.
Anyway, the point is that the Mad Men credits are really good and the Breaking Bad ones aren't. In fact, the only thing that would possibly make Breaking Bad a better show would be if it had better credits. And some guy from LA called Hey Look A Monster looks like he might have solved the problem by splicing the opening credits of Mad Men with Breaking Bad references.
So instead of Don Draper drinking at his desk you get Heisenberg in his lab messing around with test tubes and conical flasks and what have you, and instead of a big billboard on Madison Avenue you get a big sign of Saul Goodman's face with the immortal line 'Better Call Saul' underneath it and another massive POLLOS sign. That's probably the best part of the Breaking Mad credits, although it is really cool that the dude even uses a different RJD2 song to soundtrack it. It's the little things right? Of course, the pedantic among you might question what would happen in these imaginary credits before season 3, but I imagine most of us will just enjoy the title sequence for what it is.
So yeah, check out Breaking Mad below and maybe email Vince Gilligan to see if he wants to change the credits for the final season of Breaking Bad to something a bit better.