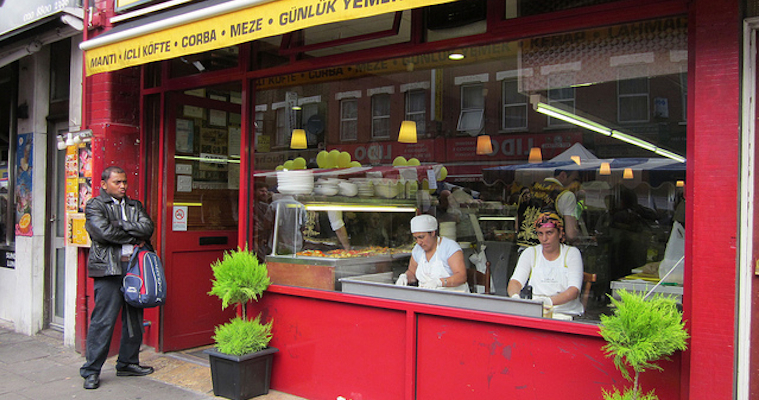 I don't know how many people have visited Haringey in north London, but for those who haven't it's pretty much full of Turkish restaurants, Turkish shops and Turkish people, with a sprinkling of Spanish, English and some obsolete Europeans scouring the streets. Since the riots last year I've really dug the Turks, what with chasing looters down the streets with broom sticks and baseball bats, 'gwarn the Turks'. They're hard as nuts and don't take shit from nobody, especially hoodlums trying to steal Turkish delights from their stores.
But lets get away from this aggressive intro and get down to their cuisine. It's rated – and highly at that. Hala, on Green Lanes, is one such restaurant of which any self respecting frequenter of this area will have visited.
The place doesn't look or even claim to be something it is not, situated in a brightly lit hall with wooden tables and chairs and a large counter/grill on your right as you enter. All the veg and meat is on display by the grill and the welcome smile from staff on arrival radiates charm and conviviality.
As soon as we sat down, a plate of warm, fresh Turkish bread was placed on our table. This, dipped in some hummus, nearly gave me a sex wee. I was told incredulously by my companions – regulars at Hala – that the usual waiting staff weren't in tonight. Not that I gave a shit because the new ones seemed pretty happy to dish out fresh bread like it was water and were kind of nice too.
The fact that my two mates are fat bastards – not physically, they just tend to generally eat shit loads – meant we had to go and order the mixed grill for three (£24). It arrived on a large oval dish with beef ribs, chicken wings, Turkish sausages, lamb on rice with toasted bread, tomato and coriander. There was so much food to eat I kind of felt ill but that's not to say I wasn't elated. Underwhelmed, however, by the size of my plate which couldn't accommodate a grain of rice, let alone the portions of meat I had in mind to consume. So it was literally a matter of topping up as we went along.
Five helpings later I was fucked. I could hardly move and felt uneasy about asking for the bill at the risk of puking. This was self inflicted though and it would be unfair of me to adopt a sardonic tone regarding the food as the meat was, on the whole, juicy, well marinated and tender with the well dressed salad providing welcome refreshment. Little tip, drink lots of Efes beer (£2.50 a pop) – it is great stuff and good value. We also drank tea after the grill, in a glass cup about the size of my thumb, – apparently this is the way Turks roll. Oh, and watch out for a dodgy sweet handed to you after the tea which looks like an enormous blood cell made of pure sugar, not for me but some people get off on it I'm sure.
Overall, Hala is very good value for money and serves real nice food. It has an easy flow about it and the service is friendly too. There's an abundance of food on the menu to choose from which would take another years worth of visits to cover. I'll be the first to admit that I'm going there this week for another Hala hit.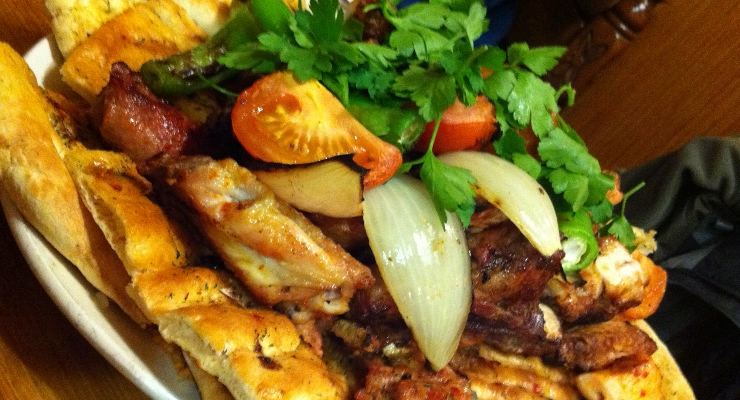 RATING KEY:

BRAP

IN THE GUTTER

CRAP

STANDARD

BRAP

NEXT LEVEL