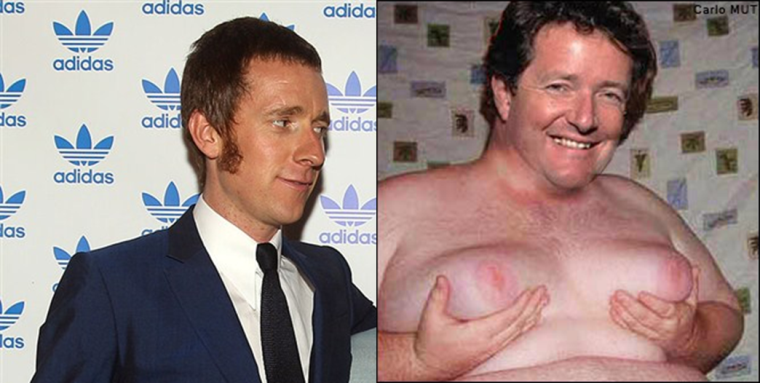 Piers Morgan- The biggest prick in the world. There is no doubt about it, everything he does infuriates me. He seems to think that correcting people's grammar on Twitter is the coolest/funniest thing in the world. He is wrong. Firstly – a 140 character limit gives everyone a reasonable excuse for not being grammatically correct – and secondly no one gives a fvck, you are just a 24 carat cock!
He seems to love having a go at Alan Sugar for the number of viewers that he gets on his shows. Well, no shit Piers! Of course you are going to get more viewers if you show an emotional interview with Gazza who has completely lost it. Who would rather watch a group of bellends try and suck off Alan Sugar than listen to Paul Gascoigne tell some amazing stories? (The man used to drink 3 bottles of whiskey then boss a football match and get man of the match, whilst being too pissed to remember it!)  Back to the point, it has nothing to do with you Piers that your show gets so many viewers, it is down to your guests. You are still a twat.
Anyway enough said: I hate the guy. Fair play to him- that is exactly what he wants – idiots like myself to get wound up by him pretending to be a diehard Arsenal fan.  It worked on me, I hate him, and get annoyed by him every day, but I LOVE hating him; there is nothing I like more than people rinsing him.
For example one of his many celebrity feud's is with Madonna (also a chief).  When Madonna joined Twitter he saw this as a great opportunity to reignite this hatred/ raise awareness of himself, so he wrote  "Welcome to Twitter. You're still banned from my show. Love Piers x." To which her manager quickly tweeted back: "Really?" and attached a copy of an interview request for Madge to appear on the British version of Morgan's talk show. Put Piers in his place!
His most recent rants have been about the Olympics, no surprises. Firstly he has been trying to get more sports in school, a great thing maybe but I hate the way he pretends like he is some sort of athlete. He suggests that kids should bike 10km to school- this is coming from the fat wanker that gets chauffeured around  London? I just want to punch him in his vagina. He then moved on to GB athletes who haven't been singing the National Anthem recently after winning Gold medals. Basically being a bitch about it. They have probably just done more exercise than Piers has done in the past 10 years and done their country proud. Whether they sing the National Anthem is neither here nor there, they certainly don't need Piers' approval. Which is exactly what Bradley Wiggins said after winning his Gold medal and Piers had tried cussing him for not singing. Check this out: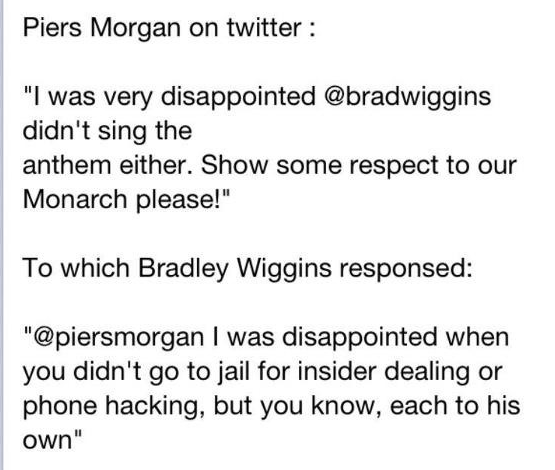 Unbelievable stuff! Everyone has loved it and got on the bandwagon. Unfortunately that wasn't the original and it wasn't tweeted by the legend Bradley Wiggins. It was some dude called @mrcolmquinn had actually tweeted that as a response to Morgan.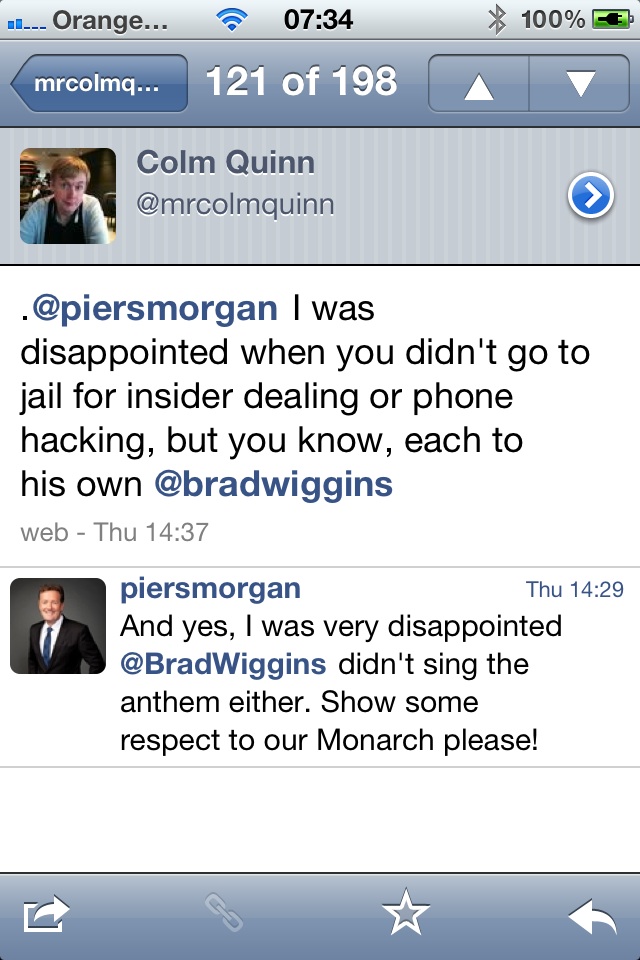 His number of followers has shot up over night. But this new found fame has obviously taken him by surprise. He has even been tweeted by some of his favourite celebrities who evidently also think Piers is a dick.

Understandably he has become a bit worried about the amount of coverage of this. So lawyers have starting tweeting him saying they will defend him in court if Morgan decides to sue.  So well done Mr Colm Quinn you have proved that the entire nation really does hate Piers.

 Piers- Stay in America you fat prick.
If you want to be annoyed by Piers everyday to. Go here: @piersmorgan and if you want to follow me. Go here: @TomGatenby1