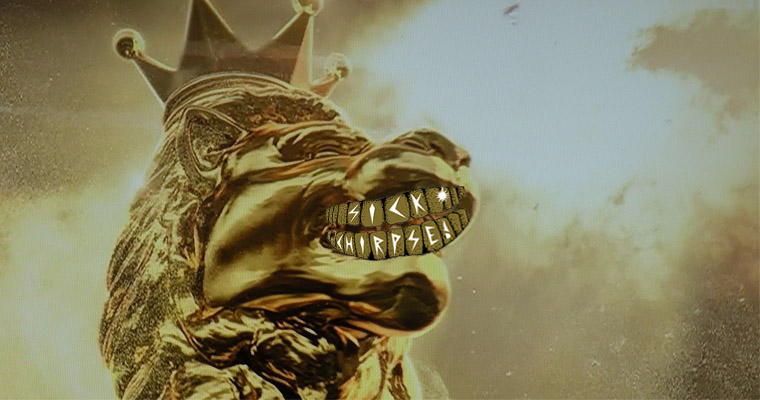 The Bosman ruling was created as a result of Belgian footballer Jean-Marc Bosman who basically got pissy about not playing and wanted to get a free transfer so he could play for another average team. He challenged the football transfer rules way back in 1995 when he took it to the European Union and as a result many players have been able to exit for a little extra cash for them and their agent whilst fvcking over their club.
It happens every year and usually to Arsenal as a result of Wenger having morales or something crazy like that.
So from the same guys who brought you the Sick Chirpse Fantasy Football League and  the Premiership Bald XI – Sick Chirpse have now compiled a list of the Top XI players that are up for free in June of this year: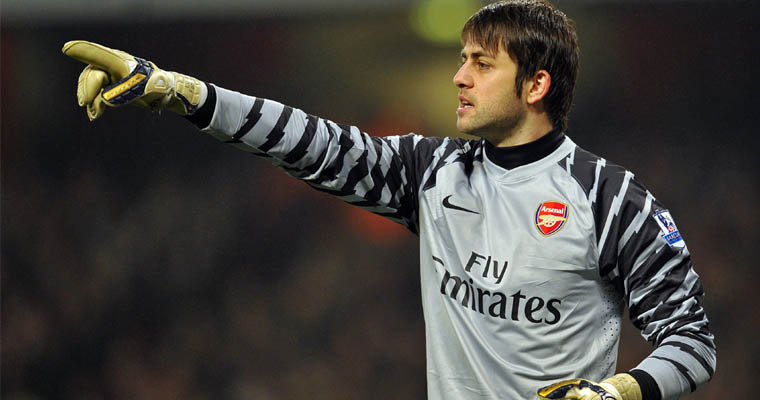 Goalkeeper – Lukas Fabianski – Arsenal.
He has only made 27 caps for The Gunners since joining in 2007 from Legia Warsaw but after Brad Friedel signed a new four year deal at Spurs, Fabianski was very much the best of a bad bunch available on a free. He has played 21 times for his national team and has had spells of being Arsenal's number one keeper, however he has ultimately  been left on the bench when Wenger has opted for either Wojciech Szczesny or Vito Mannone.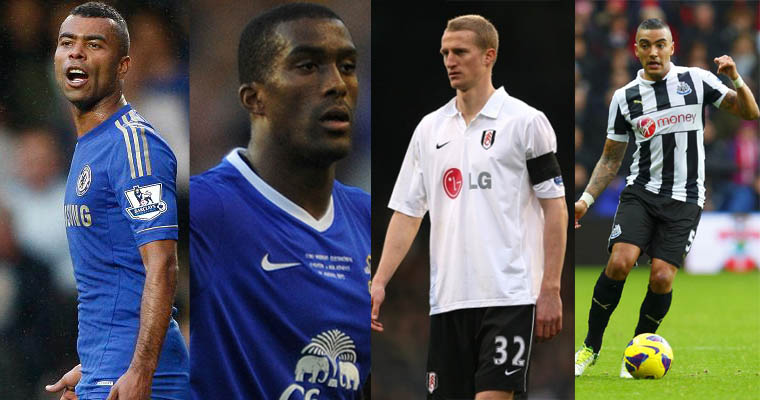 ☛ More: 10 Worst Premiership Signings Of The Season So Far
Left Back – Ashley Cole – Chelsea.
Most hated man in the Premiership but arguably the best left back in the world right now. Having only just turned 32 you would be silly in thinking he still has at least 3 more seasons at the top level. Two of his old managers are sniffing around apparently and for a man who has taken such a beating from fans up and down the Premiership it is possible that we could see him on his way to Ancellotti's PSG or Mourinho's Real Madrid this Summer.
Centre Half – Syvain Distin – Everton
Syvain the silky French maestro has made his way into this team based on his great performances this season, especially against Chelsea on Sunday where he looked supremely powerful throughout. He is a true seasoned professional and has been at PSG, Man City, Newcastle and Everton just to name a few. He may be 35 and knocking on the door of retirement but I can't help but think that he must have one more good season left in him at the very least. He is currently keeping Rio out of the Bosman XI based on Rio being a knob and also being more interested in promoting his garbage magazine R5 or whatever the fvck it's called.
Centre Half – Brede Hangeland – Fulham
The 1.9 metre giant and Norweigan Captain has been repping at Fulham since 2008 and has scored 8 goals in 171 games for them after making his transfer from Copenhagen. He is another powerhouse defender but handles the greatest forwards in the Premiership week in week out with grace and poise. Most importantly he loves a  tackle and at 31 he can certainly still cut the mustard.
Right Back – Danny Simpson – Newcastle
A product of the Manchester Utd academy who is now making his name at Newcastle whilst also taking time out to receive terrible blowjobs from Tulisa. Fast, great crosser of the ball and intelligent with his play – this right back could be a key figure in any Premiership side next year if Newcastle don't get their asses in gear and put pen to paper.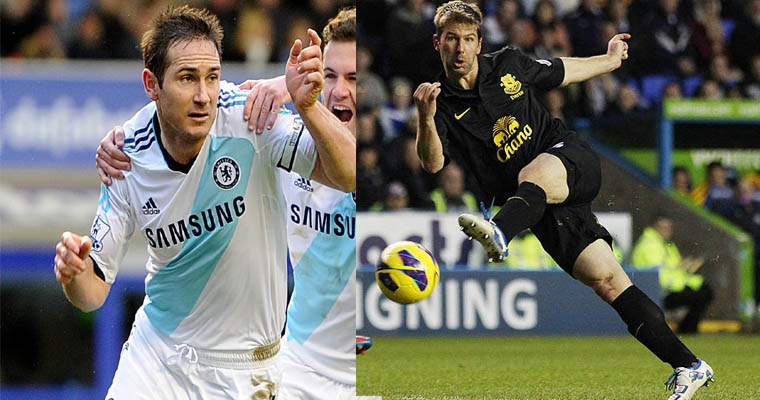 ☛ More: Footballer's Part Time Jobs
Deep Lying Midfielder – Frank Lampard – Chelsea.
As if he needs any introduction, whatsoever. At the time of writing this article he has officially become the 5th highest Premiership goalscorer ever as well as the highest goalscoring midfielder, he has just scored two goals to help Chelsea beat Everton 1-2 and is one away from equalling the same goals as Kerry Dixon has scored for Chelsea. Apparently issues with the contract being extended are down to Chelsea and their 1 year policy for players over the age of 30 as well as the fact that keeping Lampard on as a bit player with such a high wage will lessen Chelsea's chances of meeting financial fair play rulings. All that aside though – why someone serious doesn't snap up Super Frank I'll never know. What a top player.
Holding Midfielder – Thomas Hitzlsperger – Everton
It would easily be argued that there are a couple of better holding midfielders available on a free at the moment but I just don't think Kolo Toure can do the business anymore and Phil Neville is one of the ugliest footballers to have ever graced the tele so they don't make the cut. Hitzlsperger has been quite the Premiership journeyman but has always put in 110% and loves a pop at goal. Not quite Patrik Berger but nonetheless he loves a shot from deep and on that alone I'd pick him. Good eye for a pass and at only 30 there has got to be life in the old dog yet.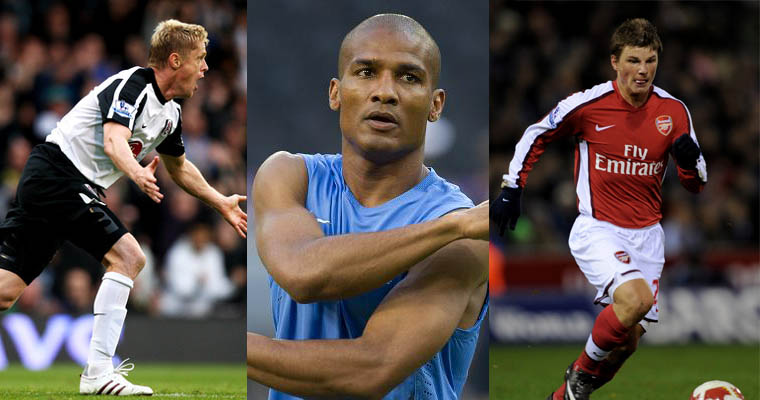 Left Attacking Midfield – Damien Duff – Fulham
Damien Duff came to promience with Blackburn Rovers before jumping ship and making a big money transfer to Chelsea where he played a phenomenal three seasons before joining Newcastle after a slight falling out with management. Duff went on to have an injury plagued four seasons at the Toon before moving to Fulham where he has again found his own. With three goals in fifteen appearances so far this season Fulham would have to be stupid not to snap him up for another year. A great player who still has at least one good season in him despite being 34 in March.
Centre Midfield – Florent Malouda – Chelsea
(To the tune of Follow The Leader) "Florent Malouda-Louda-Louda Florent Malouda – We want goals." As a Chelsea fan I've been forced to sing this a couple of times in my life – and with good measure as now and again he has done the business for Chelsea. He was Chelsea's top league goal scorer in 2010-2011 above The Drog and Anelka but fell off the radar towards the end of last season and hasn't even kicked a ball this season for the London outfit. He will be happy to sit on the bench for the rest of this year and I doubt Chelsea will offload him sooner as no one will pay his wages but chances are that as long as someone trusts in him enough to centre a team round him he has the experience and talent to still do it at the top level. He just isn't going to get a game with Hazard, Mata, Lampard, Luiz, Ramires, Marin, Moses, and whoever else lines up for the Blues. He will just turn 33 as his contract is up in June and could get snapped up by someone who wants to pay top dollar.
Right Attacking Midfield – Andrei Arshavin – Arsenal
Arse-Shavings might be unbelievable on FIFA 12 but I'm afraid he's not quite that good a player in real life or on FIFA 13. Although the facts remain  that if Reading don't end up snapping him up in January that he will undoubtedly be on the wishlist of a couple of top teams. Proven goalscorer if you just consider his career at Zenit or for Arsenal against Liverpool where he banged in four. Could be worth a punt as he can play up top or on the right or even cutting in from the left at a push. In 6 games so far this year Shava hasn't hit the net but come June he will have just turned 32 and might still do a job.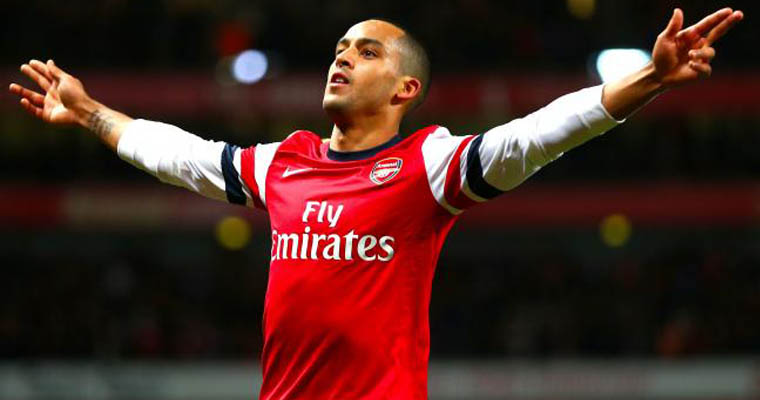 ☛ More: Who Really Is The Most Ugly Footballer? 
Striker – Theo Walcott – Arsenal
Wenger took left winger Thierry Henry from Juventus and made him one of the greatest strikers in Premiership history, he then did the same with RVP when he skanked him off Feyenoord, and as of this weekend he seems to have done the same with Southampton youth product Theo Walcott. Problem with Wenger is he has made a disgusting habit of letting people leave Arsenal whenever they want – see Toure, Cliche, Nasri, RVP – and and he might have now done the same with Theo. The world is Theo's oyster and he could repay the faith and Arsene Wenger and the Gooner fans or he could take whatever money a club would throw at a transfer and split it with his agent as a signing on fee. Sounds reasonable. He is undoubtedly the big signing available this Summer as at 23 years old he has ten years or a good chance of a resale if someone invests. Fingers crossed for the Gunners that it is Arsene who sees the light.
So if Harry Redknapp manages to beat the drop and offload three quarters of his garbage squad – him and all the other Premiership managers can have the pick of the dregs so to speak – and might be able to make their own bosman dream team. So on behalf of all those managers I would like to thanks Jean-Marc Bosman for making this all possible for half the price. Safe ones.
Follow AMJ @amjeezie