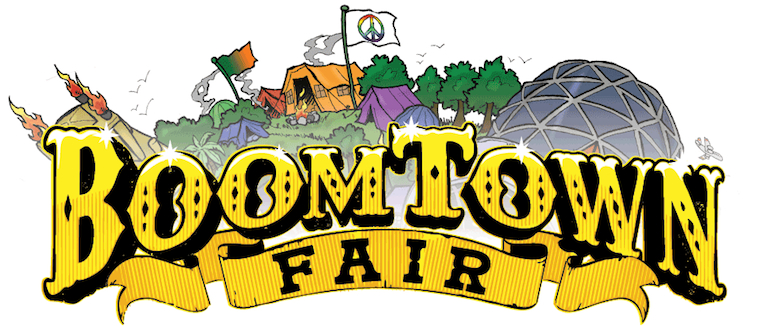 Boomtown is marketed as the UK's maddest festival. It takes place at a secret location somewhere in Winchester the weekend of August 9th – 12th and is pretty mental. The theme is that Boomtown is an actual town that for one weekend each year closes all its doors and opens the city to the tourists – that's you – to take the streets and indulge in its unique crazyness. What exactly does that mean? Well, there's over 30 outrageously themed stages and that's not including all the mutant vehicles, mind boggling sideshows and full on street parties that will be happening over the weekend. This year (this is Boomtown's fourth year) the event has expanded to include hot tub facilities in the camp site and a bunch of wooded areas where you can throw your own parties or maybe just have a chillout session. Either way, vibes.
The lineup is massive, but I'll include it at the end anyway so you can scroll down and see who you might be interested in. It's mainly ska/dubstep/reggae/drum n bass what have you, but there's also some psychobilly, jungle and jazz tents so you know whatever mood you're in at Boomtown you'll be able to find some music to acompany it. In fairness there are only two moods at a festival (partying or chilling out – maybe there are only two moods in real life anyway?) and judging by this lineup you can tell you'll be well catered for in those respects. I guess the highlights for me would be stuff like The Slackers, Asian Dub Foundation, Shy FX, Blak Twang and Plump DJ's (OK, maybe Reel Big Fish) but there's something here for everyone, especially if you love partying. If you're still not convinced here's a video of Boomtown last year highlighting the Arcadia stage (which is crazy) but it gives you a pretty good idea of what the festival will be like i.e. fvcking mental.
[yframe url='http://www.youtube.com/watch?v=ViY1NF7svS0′]
This looks so fun and crazy that I kinda wish I was going myself now. Instead Sick Chirpse is sending Batman_LDN and a film crew over to the festival to cover it for us. We're just going to let him loose on the festival and see what happens. If you've seen his weekly chirpse guides then you already know he's a crazy fucker so shit should be next level. He'll also be chatting to Sick Chirpse faves Illaman and Tomb Crew as well as High Rankin and some other peeps, so look for that footage to blow your mind a week or so after the festival if you can't make it. Tickets have actually sold out now which is unfortunate but if you like what you're seeing make a note of it and make sure you manage to blag them next year.
Here's the full lineup – it's long!
Town Centre – Jump up party ska, swing, gypsy, fun
Major headline acts and much more coming very soon!!
**Huge secret headline act still to be Announced**
Caravan Palace
The Skatalites
Reel Big Fish
Asian Dub Foundation
BBB (Balkan Beat Box)
The Beat
Capdown
Dub Pistols (live)
The Slackers
Movits
The Urban Voodoo Machine
[Dunkelbunt] & the Secret Swing Society
Carny Villains
Molotov Jukebox
Sound of Rum
Babyhead
Mad Dog Macrea
Sheelanagig
Swing Zazou
Gypsy Hill
Gadjo
Bison
The Lions den – The UK's biggest reggae, ragga and dub stage
line up so far
Alborosie
Beenie Man
Tanya Stephens
Natty
Gappy Ranks
David Rodigan
Jah Shaka
Macka B and the Roots Ragga Band
Zion Train
Blak Twang
South Rakkas Crew and MC Serrocee
Mungos Hifi feat Soom T, Mr Williams, Kenny Knots
Trojan Sound System
Troy Ellis & The Hail Jamaica Reggae Band
Rodney P and Skitz ft Buggsy
Deadly Hunta
The Heatwave Feat Lady Chann, Leshurr, Stush, Rubi Dan,Stylo G
Serial killaz
Bush Chemists
General Levy and Krinjah
Marcus Visionary b2b Benny Page
Curtis Lynch Jr & Mr Williams – necessary mayhem showcase
Chopstick showcase ft Jacky Murda, Aries, Tuffist and Demolition Man
Channel One
Mr Benn
Aries
Dirty Dubsters
Dub Boy
The South Rakkas Crew and Serocee
Arcadia – The worlds maddest stage has just got madder!
Many more acts still to be announced
Dirtyphonics
Krafty Kuts
Stanton Warriors
Shy FX
Plump Dj's
Peo de Pitte
RackNRuin b2b Foamo
Chris Liberator b2b Dave the Drummer
Serum + MC Carasel
Ratpack + MC Everson
Sub Slayers Takeover
Far Too Loud (Live)
Foamo & RackNRuin present Gorgon City
Bassline circus – DnB, electro, circus, bass music
line up so far
Jack Beats
Caspa
Breakage
The Nextmen & MC Wrec
Coda (Live)
DJ Hype
Roska
High Rankin (live)
Dub Phizix
Kanji Kanetic
Engine Earz (Live)
Dub Pistols dj set
Illbilly Hitec (Live)
SL2 (live)
Dub Mafia (Live)
Woz
Slamboree (Live)
DJ parker
Tomb Crew
Wild Knights
Arsequake
Dr Meaker
Pyramid
Devil kicks Dancehall – Punk n roll, hell jazz, psychobilly, ska
line up so far
Batmobile
Mad Sin
The Meteors
Sonic Boom 6
The Filaments
Empress of Fur
Hillbilly Moon Explosion
Jack Rabbit Slim
Random Hand
Bored of Justice
Beat the Redlight
Broken nose
Screaming Sugar Skulls
The Marksmen
The Magnetix
The Peacocks
Vince Ray & The Bone Shakers
Poor Old Dogs
Go Go Cult
Smokey Bastards
The Devil Wrayz
Moonshine Stalkers
Smack Joint
DragSTER
Epileptic Hillbillys
The P.O.X
Undizeyerbels
Pussycat & the Dirty Johnson
Kick 'em Jenny
The JUNK
Rocker Covers
Oldtown Theatre – Hosted by the Invisible Circus, flat out ska, cabaret, comedy, Gypsy, Balkan
Pronghorn
Smerins anti social club
Gentle Mystics
Los Albertos
Yes Sir Boss
Balkan Bandits
Beer Beer Orchestra
Big Red Ass Band
Tragic roundabout
King Porter Stomp
Bootscraper
Dinamo
Electric Swing Circus
First degree burns
Will Tun & the Wasters
Halluminati
JB conspiracy
Joe Driscoll
kitten and the hip
Lazy Habits
New Groove Formation
Sharman Festival
Strobe circus
The Communicators
The Great Malarkey
Lazy Habbits
Emergency Band
BudZillus
The Hidden woods (new stage) – Live dub, reggae and roots deep in the woods;
Sicknote
The Barley Mob
The Skints
Laid Blak
Only Joe
The Drop
Dub from Atlantis band
MC Xander
Jaya The Cat
New Town Kings
Black Star Dub Collective
Captain Accident
Dub Heart
General Roots
Friendly Fire Band & MC YT
Celtic Rasta
Reggae Roast
Samsara
The Majestic
The Body Shop – Fully upgraded much larger clinic just two doors down – hard jungle, breakcore, full on mash-up mayhem
Luke Vibert
The Panacea
Audio
Drumcorps
Producer
Heist
Krumble
Punk Floyd
Krinjah
DJ K
Deathmachine
Junglefever
Stivs
Ed Cox
Squire of Gothos
Wan Bushi
Run Tingz & Blackout JA
Rowland the Bastard
Vandal
J Man
Dirty Dike & Jam Baxter
Katch Pyro
Parasite
Scamp
Block Dodger
Johnny Sideways
Boombox – hosted by our friends the Danceoff crew, bassline, party mas-up, old-school
Freestylers
Deekline
Ed Solo
Dj shepdog
Balkans hi-fi
Jinx in dub
Balkan hotsteppas
JFB
2 bit thugs
Slipmatt
Paker
Mr Benn
Arsequake
disablists
Don't flop mc rap battle
Wonkavision
ASBO DISCO
Hanging Gardens (new Stage) Funky Ska, jazzy blues
25 Past The Skank
Buffo's Wake
Cartoon Violence
Cordelia Fellowes & co
Gadjo (second set)
Gecko
Gorgeous George
Jimmy The Squirrel
Johnny Kowalski & The Sexy Weirdos
Popes of Chillitown
Royal Gala
Seas of Mirth
The Apocryphalites
The Duvettes
The Binewski Murder
The Dapper Cadavers
The Infinite Collective
The Magnus Puto
The Meow Meows
The Tatsmiths
The Ten Pound Suit Band