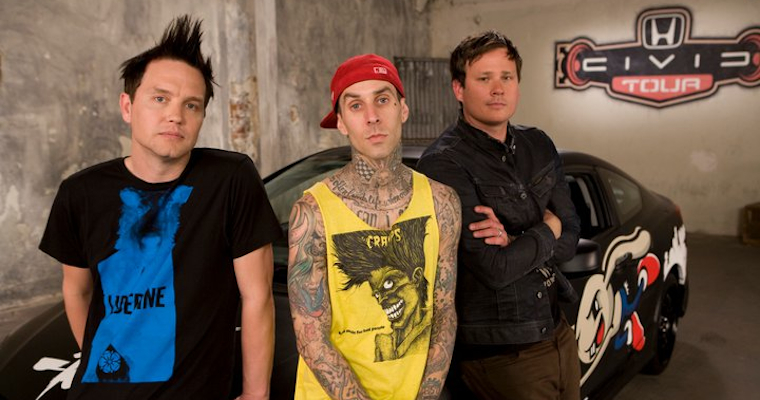 So remember a couple of months ago when I got really excited about the new Blink 182 record coming out and the fact that Blink 182 was releasing new songs again? And then the album and the majority of the songs (except Wishing Well) turned out to be crap and clearly way too influenced by Tom Delonge? It was only a couple of months ago come on! Maybe you didn't click on it I guess.
Anyway, some dude decided to do an arrangement of Up All Night whereby he imagined Enema of The State (you know, one of the best records ever) had only just come out and Blink 182 weren't all 'mature' and making dumb songs with weird guitar effects and stupid time signatures and Tom Delonge wasn't a complete weirdo who was obsessed with God and aliens or whatever. And surprisingly it's actually really good!
It literally sounds exactly like a Blink 182 song would have sounded 10 years ago, I guess minus the insane production values and Tom Delonge's voice. It even has a piano bit in the bridge and that drum build up that Travis Barker always does after it to come back into the chorus. You'll know what I mean when you hear it. I think one of the comments on the video probably best sums up fan opinion of this version of Up All Night compared with the actual Blink 182 version of Up All Night: 'I heard Blink 182 did a cover of this song.'
The video is really funny as well because the guy wo created the song has four different windows and in each one he's playing one of the instruments used in the song or singing into a microphone. These windows switch around throughout the song depending on what's going on in the song at that point. There's even one point where the drummer version of the dude stops playing drums and writes on a piece of paper 'The drums are TOO HARD.' It's like he even made a Blink 182 video like Blink 182 would have 10 years ago!! What a guy!
Check out the video below and don't forget our competition to win tickets to see Blink 182 at a venue of your choice next year:
[yframe url='http://www.youtube.com/watch?v=Rn4kmfjYR1I']